Towards the beginning of every month, a bunch of friends from work and I meet up at a local BYOB and bring some new/interesting beers to try. This month's haul: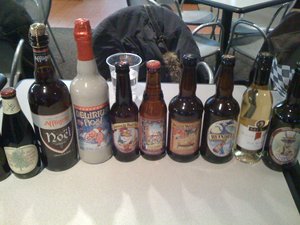 It was a mostly holiday ale theme. Conditions aren't exactly ideal for tasting, so take the following with a grain of salt, but here's what I thought of each:
Well, that about covers it! Again, not an especially rigorous tasting session, with the palate cleansed by a burger and fries, but still, as always, a really good time. After beer club, a few of us hit up the local beer distributer. It being PA, we could only buy a full case of stuff, but someone became enamored with Anchor's Christmas ale and bought a case of that, and four of us went in on a St. Bernardus variety pack (each of us got 6 St Bernardus beers, which is pretty awesome). As usual, I'm already looking forward to next month.