I've been catching up with 2010 movies lately, and one that I've been looking forward to was Blood Into Wine, a documentary about Tool frontman Maynard James Keenan's winery in Arizona. As a film, it tends to focus more on the personalities involved and their motivations rather than what they produce (though there's some of that as well). This makes a certain sort of sense, as there's something fascinating about an already mysterious rock star putting his music career on hold while he jaunts off to make wine.
It's a very slickly produced film, and it looks fantastic. Some of the sequences are obviously staged (including one embarrassingly stupid scene in a bathroom), but they don't pretend not to be and it does indicate something about the quirky personalities covered by the film. Keenan has always been a bit impenetrable, so the mixture of fact and fiction makes a certain sense. Arizona is clearly not a haven for wine-producers, and the winery shown in the film is absolutely tiny – kinda like a micro-winery. It's still a young business, but early indications seem promising. It seems for a moment that the film is gearing up towards a Beer Wars-style (or maybe King of Kong-style) underdog versus monolithic corporation confrontation, but it doesn't really go that way. The wine world certainly seems competitive, and there are big entities there, but it hasn't quite reached the epic alcoholic-drink-as-commodity levels that the beer world deals with. As such, all we get are a few other wineries and wine critics who opine on the oddity of an Arizona winery. There are a number of other celebrities that make appearances, such as a hilarious, recurring Tim and Eric interview, Milla Jovovich (Keenan's coconspirator in music with Puscifer) and Patton Oswalt. In the end, it's quite entertaining. I don't particularly love wine though, so I substituted beer for wine whilst watching: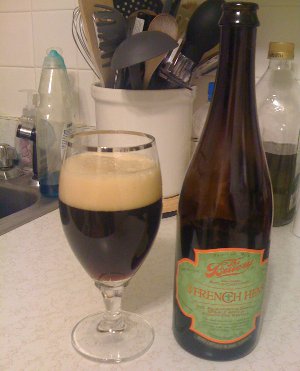 The Bruery 3 French Hens: The Bruery is only a few years old at this point, but it's gained quite a reputation in that time, and from what I've seen/tasted, it's very deserving of all the attention it gets. This beer is the third in a planned 12 year series of beers based on the 12 Days (or should we say Years) of Christmas. You have to respect that sort of audacity, though as I understand it, there's some controversy about the first couple of years of this (in particular, Partridge in a Pear Tree) being hard to find and thus fetching quite a price on eBay and the like. Regardless, when I saw a bottle of this at the local beer garden, I had to pick it up… It pours a very dark brown, almost black, color. You can only really see it when you hold it up to a light, but when you do, you can see through it (just barely). The head is well proportioned and surprisingly light colored. It also smells a bit lighter than it looks, which I have no problem with, as it smells great. The taste is sweet, a little fruity, and spicy (maybe a little clove), with a bit of a syrupy middle and a nice boozy kick at the end. Sometimes that sorta booziness can overpower a beer (as it did with last night's Insanely Bad Elf), but in this case, it's relatively well balanced, and you can get that sort of flavor without being overpowered by it. I think I can also get a bit of that oaked flavor as well, which just adds to the complexity. Overall, it's an exceptional beer, and something I wish I had the foresight to buy a case of and the willpower to store it for the next ten years. As it is, I guess I should just be happy that this West Coast beer is even available here at all! Now I find myself greatly looking forward to Four Calling Birds. A
Beer Nerd Details: 10% ABV bottled (750 ml, capped bottle). Drank from a goblet.
This is only the second beer I've had from The Bruery (the first being Coton, which I thought was amazing, if a bit powerful), but they seem every bit as excellent as their reputation implies, so I'm quite excited to seek out more from them…