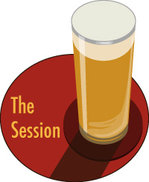 The Session, a.k.a. Beer Blogging Friday, is an opportunity once a month for beer bloggers from around the world to get together and write from their own unique perspective on a single topic. Each month, a different beer blogger hosts the Session, chooses a topic and creates a round-up listing all of the participants, along with a short pithy critique of each entry. You can find more information on The Session on Brookston Beer Bulletin.
This time around, Gail Ann Williams of Beer by BART wants to talk about "New England, Vermont-inspired, Northeastern, Hazy, Juicy or whatever you like to call these low-bitterness, hop flavorful beers" and that's a subject that interests us here at Kaedrin, so here goes.
Of course, I've already said my piece on Northeast IPAs and Milkshake Beer (in addition to reviewing lots and lots and lots and lots of them). Indeed, I've just completed a quick, day-long tour through Vermont in order to acquire various Northeast IPAs (and saisons, and stouts, and lagers, and everything else, but NEIPA is clearly the driver), the sixth such incursion in the past five years. Here's some Hill Farmstead Walden from the latest sorty: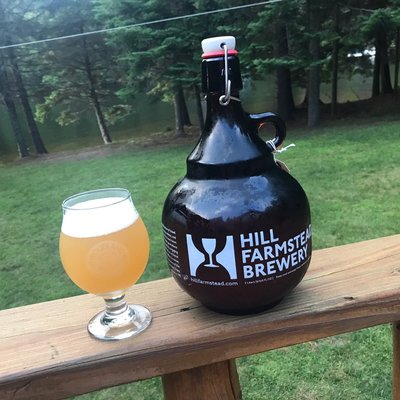 Since I've already opined on the subject, I shall try not to repeat myself too much. The short story, in my mind, is that the entire trend is driven by yeast. This harkens back to the days of Greg Noonan and the Vermont Pub & Brewery, where he pioneered the use of the fabled Conan yeast. An English strain, it tends to accentuate the citrusy character of hops, lending a distinctly "juicy" feel to the resulting beer. Yes, the beer tends to be a little hazier (ok, sometimes a lot hazier or downright cloudy), but that's a red herring. You can make super hazy IPAs with a clean American Ale yeast strain, but that won't capture the Northeast feel. Of course, not everyone uses Conan, but when you look into the Hill Farmsteads and Tired Hands of the world, you find some sort of English strain of yeast that accentuates that juicy character. (Again, more detail in my previous post on the subject.)
Part of the reason I attribute this to yeast (other than it actually being the most important, defining difference between NEIPA and traditional or West Coast IPAs!) is that when I finally got my greedy biscuit snatchers on some "Vermont Ale" yeast, I basically took an old IPA recipe and made the same thing (it ended up having slightly higher ABV and slightly less IBUs) but with different yeast and I was shocked at how different the resulting beer was. Yes, again, it was cloudy, but all my homebrew is relatively cloudy. The flavor was light years away from the original brew (which was a nice, solid little West Coast style IPA). Up next, I'm probably going to try a similar recipe, but using the easier to find Wyeast 1318 London Ale III strain (rumored to be close to what local Kaedrin favorite Tired Hands uses).
I could keep going, but I'd just be repeating myself, so let's give a quick whirl to the questions Gail posed:
The encounter: Do you remember your first NEIPA – if so, what was that like? Details, please. And how has your perception of the style changed over time?
I didn't know it at the time, but it was during a Philly Beer Week event with Hill Farmstead. My first was their What is Enlightenment? but I guess that's technically an APA, so let's go with Abner, which was the true revelation of the day. Of course, at the time, I didn't really know exactly how to describe how it was different, I just knew that it was delicious. It was actually during that event that I learned of Tired Hands, our local purveyor of NEIPA, and not long after that, I started going regularly (their lack of regular, staple beers means that I've had literally hundreds of different NEIPAs from them). Shortly after that, I got my claws on some Heady Topper, and I was hooked. I've been in love with the style ever since, and I've gotten better at being able to describe, distinguish, and differentiate NEIPA from regular IPA…
Or the name game: What style name do you prefer to describe the trend … why choose that one, and why are the other names unworthy or short-sighted? Does "IPA" still apply in a way that's helpful to drinkers?
I tend to go with Northeast IPA, but I'm not too picky and most of the other names work. Ultimately, though, they're still IPAs. I don't think that we absolutely need a new BJCP style or something (though perhaps easing some of the restrictions on clarity and IBU might be in order).
Or the crusade: Testify! Exactly why do you love or hate these beers? How you could explain your stance to somebody who disagrees with you. Could you/ how would you convert them to your point of view?
I love these beers because they're delicious! Is there any other real reason? Of course, there's no accounting for taste. If you don't like them, more power to you (and please lay off, these things tend to be in short supply, so fewer drinkers translates to better/easier availability… but of course, I'm not holding my breath on that count.)
Or setting standards and defining flaws: What makes a classic example of the style?
I've already explained this a little above, but it basically amounts to pale malt (with much less in the way of crystal than a lot of IPAs, but other adjuncts like oats, rye, and wheat often in the mix), copious amounts of newfangled "flavor" hops (i.e. mostly American citrus and pine bombs, but also NZ and Australian hops, but these days, even Germany is starting to jump on the bandwagon – it's the citrus notes that are probably most important), and of course, the all-important yeast. Note that "cloudiness" is not an absolute requirement. I've had some of these that are no cloudier than an equivalent unfiltered West Coast IPA. Of course, I've had others that literally look like orange juice or chicken broth, but again, not an absolute requirement. Bitterness tends to be lower, but it doesn't need to be (I suspect the juicy character leads to a sweeter perception no matter what the IBU). Milkshake IPA should include lactose. Flaws tend to be in the mouthfeel (some can get excessively grainy) and it's worth noting that these beers often don't last – they sorta require drinking as fresh as possible.
Alright, so I could probably go on and on about this stuff, but the short story is that I like these beers a lot, and I hope they continue to be a thing.