When I was a teenager, I drove cross-country with my brother and uncle. One feature of such a trip is that once you get past major population centers, you tend to see the same people over and over again. There are only so many major highways and if you're both traveling in the same general direction, you'll find yourself stopping at the same gas stations, eating at the same roadside stops, and even camping at the same campgrounds. There's a (admittedly trashy) movie called Road Games that relies on this dynamic, making it a sorta moving version of Hitchcock's Rear Window.
I noticed something similar going on during Operation Cheddar V: Bride of Cheddar, only instead of gas stations and campsites, I kept seeing the same people at breweries. Go figure. This is my fifth such trek through the wilds of Vermont in search of beer, and as per usual, it was a lot of fun.
This started off, as per usual, at the Warren Store, where I always go to pick up some of Lawson's Finest Liquids. Alas, both available options were things I'd had before, but then, they're both great:
(Click to Embiggen)
That's Sip of Sunshine and Super Session #2, for those keeping count. I also snagged a freshish bottle of Frost's Plush, as I'd heard good things about them.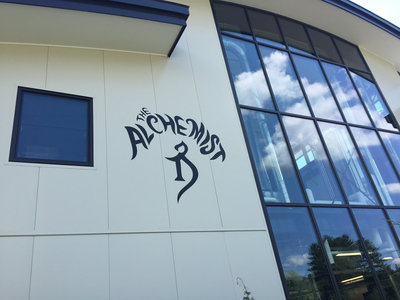 (Click to Embiggen)
From there, I headed up to The Alchemist's new digs in Stowe, VT. For the uninitiated, during the first Operation Cheddar I was able to go to The Alchemist's cannery in Waterbury, VT. However, due to the high level of traffic and with consideration for their town and neighbors, they closed that location to the public and started distributing their beer throughout the state. This made their beer more difficult to snag (at least, for passers-through like myself), but due to intense demand, they were able to open a new brewery facility in Stowe. While the cannery still puts out as much Heady Topper as possible, the new brewery focuses on their other brews, notably Focal Banger and Crusher.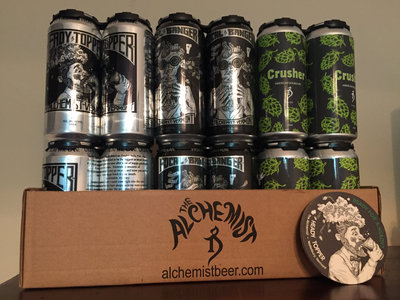 (Click to Embiggen)
Limit of one case, but you could get a variety, so I got a mix of Heady Topper, Focal Banger, and The Crusher. That last one is something I've never had before, so you will most certainly be seeing more about that in the near future.
Just a hop and a skip away from there is Lost Nation, which has become a mandatory stop, if for no other reason than their food is just astonshingly good. I had some sort of smoked beef sandwhich, which was great, of course. And I snagged some Gose and The Wind while I was at it.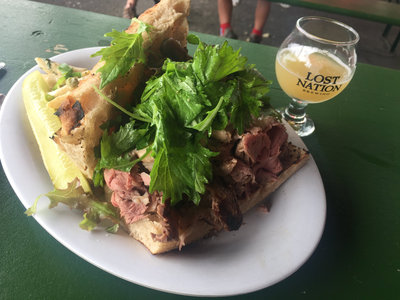 (Click to Embiggen)
Next up is another mandatory stop, Hill Farmstead. They've been doing some expansions of their own, and while lots of folks were there, the lines and waiting have been reduced considerably (though now you get bottles and growlers at two different locations). They also had some vintage bottles for sale, though only for onsite consumption (a bit pricey, to be sure, but probably worth it). I must have hit them at a weird time, as their bottle selections were dwindling rapidly, but hey, it's hard to complain when you get bottles of world class beer: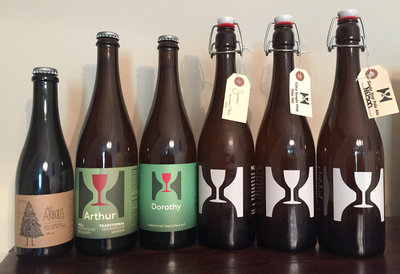 (Click to Embiggen)
That's Casita Cerveceria Del Arboles (this is a contract brewing operation that brews at Hill Farmstead, which is something that obviously requires more scrutiny that will be provided at a later date), Dry-Hopped Arthur (I believe this is another beer that uses Segal Ranch Cascades), Table Dorothy, and growlers of Sumner, Single-Hop Citra, and Single-Hop Nelson Sauvin. What the hell, let's review some of those growlers right now, while we're here and all: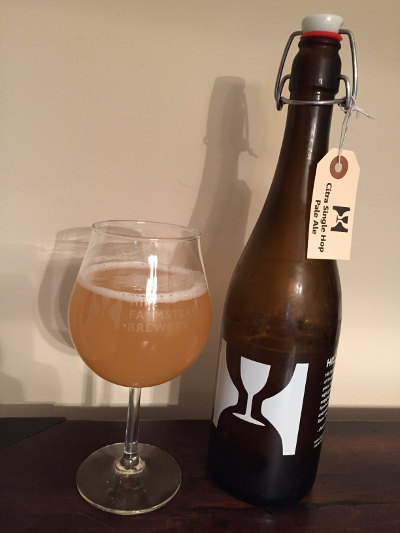 Hill Farmstead Citra Single-Hop Pale Ale – This is pretty much what it sez. I missed out on this during my first exposure to Hill Farmstead many moons ago during Philly Beer Week, so I was glad to finally catch up with it. Pours a cloudy orange-yellow color with a finger of fluffy white head and decent retention. Smells wonderful, bright, juicy citrus leavened by that floral note I tend to get out of Citra. Taste follows the nose, lots of juicy hops, a little of that earthy floral character, finishing on a bitter note. Mouthfeel is medium bodied with fine carbonation and a bit of dryness, quite drillable. Overall, yep, it's fabulous and I feel like even grading on a curve, this rates an A-
Beer Nerd Details: 5.4% ABV from a growler (750 ml swing top). Drank out of a charente glass on 8/5/16. Growler filled 8/4/16.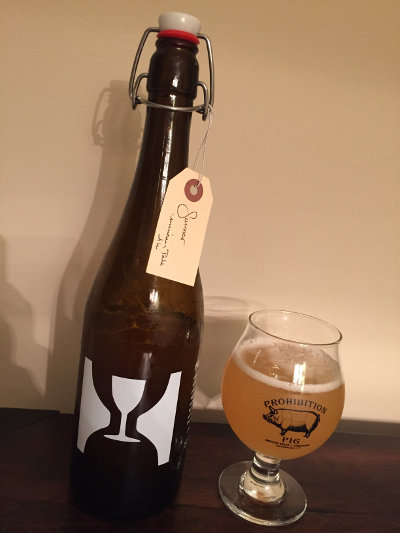 Hill Farmstead Sumner American Pale Ale – Brewed with Simcoe, Citra, and Mosaic hops? Well, ok, if you're going to twist my arm. Pours a little less cloudy, paler yellow color with a finger of white head. Smells similar, but with less floral character and more dank, resinous pine – still plenty of citrus though! Taste is again more on the dank side, plenty of citrus, a little less bright, but juicy enough, with a little less bitterness in the finish. Mouthfeel is medium bodied, finely carbonated, less dry, very crushable stuff. Overall, less intense, but still quite good. Again grading on a curve, maybe B+ or A-? This is getting impossible you guys.
Beer Nerd Details: 5.2% ABV from a growler (750 ml swing top). Drank out of a tulip glass on 8/6/16. Growler filled 8/4/16.
Then I popped over to Burlington Beer Company, the first time I'd visited. There I met with Kaedrin friend Cian McGuire, who works at the brewery and was busily bottling some beer when I arrived. We had a nice chat and I picked up plenty of beer. Naturally, I forgot to take pictures of the facility, so you'll just have to deal with the haul pic: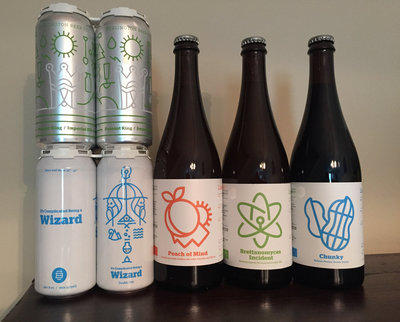 (Click to Embiggen)
That's It's Complicated Being a Wizard, Peasant King, Peach of Mind, Brettanomyces Incident, and Chunky. Check out that artwork, so nice. Looking forward to these!
Finally, I stopped in at Foam brewery to visit with Lipstick n Lager and try some of their wares. They've only been open for about 4 months, but they're really nailing their IPAs, which in Vermont is really saying something. I only snagged a single growler from them, but you will most definitely be hearing more about it in the near future. And I will almost certainly stop here again next year.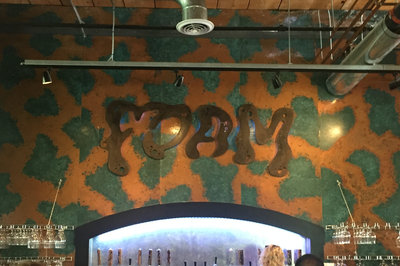 (Click to Embiggen)
From there, it was a simple jaunt back to the Adirondacks (where I was staying last week) to enjoy my spoils. I should also mention that I went back to Fulton Chain brewing, which was within walking distance of where I was staying. If you recall, during Operation Cheddar IV: Smoked Cheddar, I stopped in to this place mere weeks after they had opened. I was glad to see that they seem to be well established at this point, with a healthy crowd and many more taplines open.
(Click to Embiggen)
Highlights were Go Fluff Yourself (made with peanut butter and marshmallow fluff) and Flooded Tent (a cucumber lime saison). Not quite Vermont levels awesome, but hey, walking distance. I should also add that Officer Bob enjoyed Eskimo Strong, an imperial red/amber: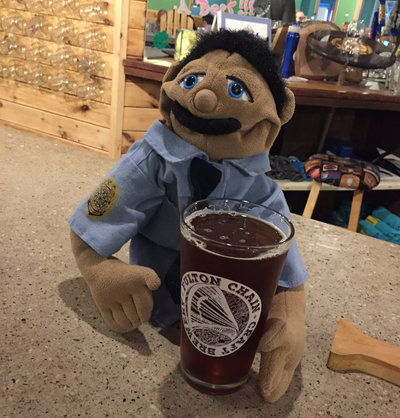 (Click to Embiggen)
Also of note, Wakely's Speakeasy on the other side of town (awesomely named Thendara, NY) that had probably the best Bourbon selection I've ever seen. Very secretive, need a passphrase to get in, and no cell phones/pictures allowed. But live music and again, great whiskey selection (not so good on the beer front, but whatevers). Apparently the owners were from Kentucky, so they've got their connections. Well worth stopping in if you're ever in the area…
And that just about covers another successful Operation Cheddar. Now if you'll excuse me, all this VT beer ain't going to drink itself. I'll leave you with some pictures of Tired Hands beers that I was drinking all week in preparation for Operation Cheddar…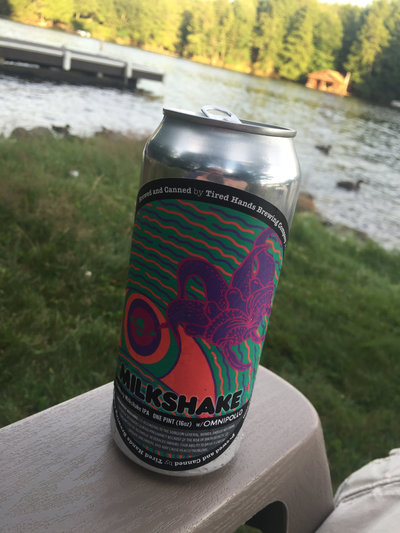 (Click to Embiggen)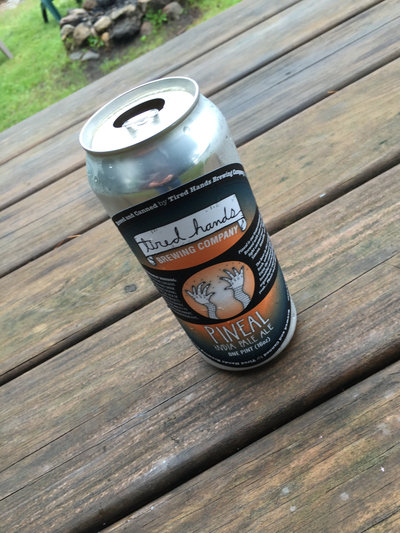 (Click to Embiggen)
It was a fun vacation, is what I'm saying. Already looking forward to my next VT odyssey.