I used to be that guy. The I don't like dark beers kinda putz. This concept of "dark" eventually collapsed when I discovered that a lot of Belgian dark beers tasted nothing like their roasted brethren in the stout and porter family, and I really grew to love them. But I still clung to this notion of kinda hating roasty stouts and porters. You can even see this in the early days of the blog, but then I discovered the joys of the imperial stout and its sibling, the bourbon barrel aged stout. Still, I tend to waver on beers that have a really sharp, bitter roasted flavor… and beers that have a really strong coffee component.
I don't drink coffee regularly. I'll have maybe a cup or two a year. I don't necessarily dislike it, and truth be told, I love the smell of coffee, but in general, I find some coffee flavors a bit of a turnoff in beer. What I'm beginning to figure out, though, is that what I really don't like is that roasty, toasty, burnt character that a lot of beers cultivate in an overpowering and dominant sense. I've been on a bit of an unintentional coffee beer kick lately, and I think I'm beginning to get a taste for it. Sure, I tend to prefer rich, chewy, caramel, chocolate, vanilla, oak, and bourbon in my stouts, but I'm finding that coffee makes for an interesting change of pace. And not everyone uses the bitterest, most burnt malt/coffee as Founders does in their Breakfast Stout (a beer I've never particularly jived with). These flavors are much more interesting to me when they're not dominant.
I am wondering how much of this change is just my evolving palate, and how much is just that I'm drinking really good beer. Take Péché Mortel, another top 50 baller brewed by those goofy French Canadians at Diu Du Ciel… A bottle conditioned imperial stout "brewed with real, fair-trade coffee", truly a beer after a Libertarian's heart. Is this something I would have enjoyed just as much two years ago? Or have I just drank enough that I'm starting to appreciate the subtle nuances of flavor that differentiate this from the throngs of mere mortal beers? Will I ever get to the point where I don't include the "It's good… for a coffee beer" proviso when praising these things?
Does it really matter if I don't? The answer is a clear "no", because who really gives a pidoddle what I like or don't? Still, during the course of my beer-drinking tenure, I've found myself acquiring tastes for things I never thought I'd love. The more I think I learn about beer, the more I realize that what I don't know is growing at an even faster pace. I don't want to become complacent, so I like to try things outside of my comfort zone, like coffee beers. I suppose there's only one way to find out: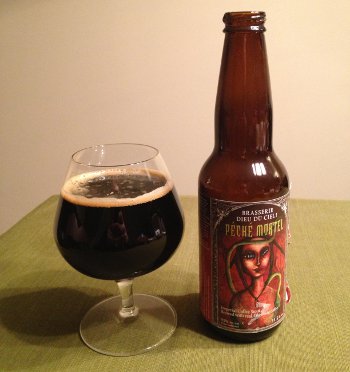 Dieu Du Ciel Péché Mortel – Pours a deep, dark brown color, almost black, with half a finger of tan head. Smells of coffee, a small amount of roast, something sugary, like molasses, maybe some caramel. Taste features a more prominent roast character than the nose would imply, lots of coffee too, but nothing overwhelming. There's a balancing hop bitterness in the finish, maybe some pine flavor from those hops too. Mouthfeel is medium bodied, a light richness, well carbonated but smooth, a little warming booze too. Overall, a great coffee-based imperial stout. I'm not a big coffee person, but it works really well here. For a coffee beer. B+
Beer Nerd Details: 9.5% ABV bottled (11.2 oz) Drank out of a snifter on 1/5/13. Can't really decipher the notched label dating thing, but there's a 4 involved.
A few years ago, I probably would have hated this. As it stands now, I really enjoyed it even if it didn't blow me away. And I'd actually like to try it again, so there is that. I've got a couple more coffee infused beers on the horizon as well, including a few more top 100 beers, so keep your eyes peeled for reviews.