Holiday beer season is my favorites, but I've been slacking a bit this year, so let's catch up with a few of these suckers that I had in the leadup to Christmas. It turns out that most of these beers were shelf turds (meaning, they've clearly been sitting on the shelf, unsold, for a while), but I'm a big tent kinda guy, so I liberated these beer from their boring shelfish lives and put them to work, fulfilling their intended purpose. Things are also looking pretty international here, but again – big tent. We're like that here at Kaedrin. Let's get this holiday party started: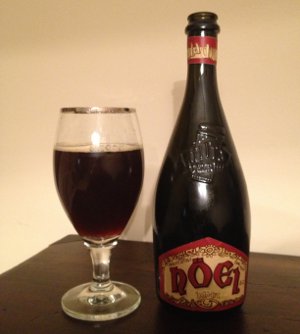 Birrificio Le Baladin Noël Baladin 2010 – I keep hearing things about these fancy new Italian craft breweries, so I figured I'd give them a shot. Fancy bottle, hefty price tag that was fortunately marked down, how could I pass this up? Pours a dark amber, almost brown color with visible sediment and half a finger of bubbly head. Smells of dark fruits – raisins in particular, with some light spiciness and maybe a hint of darker malts. Taste is also quite fruity, again with the raisins, plus a very light spiciness. Mouthfeel is surprisingly well carbonated considering how little head I got out of it, but it's got a medium-ish body, thinner than I'd expect, with a relatively dry component. Overall, this is a solid Belgian style beer, but nothing to really write home about. B
Beer Nerd Details: 9% ABV bottled (750 ml capped). Drank out of a goblet on 12/22/12.
Hoppin' Frog Frosted Frog Christmas Ale – The only non-foreign beer in the post, I suppose I could make an insensitive crack about Ohio, but I'm not a jerk (remember, big tent guy here). Pours a very dark amber color, almost brown, with half a finger of bubbly head. Smells strongly of traditional mulling spices, ginger, cinnamon, clove, etc… Actually smells a lot like a snickerdoodle. Taste has a nice, sweet malt backbone to match that spicy flavor profile, leaning more on the cinnamon here than in the nose. Mouthfeel is quite nice actually, medium bodied, well carbonated, but with a hint of stickiness. No real booze in here, which is nice for a reasonably strong beer. Overall, it's a really solid winter warmer style beer, one of the better I've had this year. B+
Beer Nerd Details: 8.6% ABV bottled (22 oz bomber). Drank out of a tulip on 12/22/12.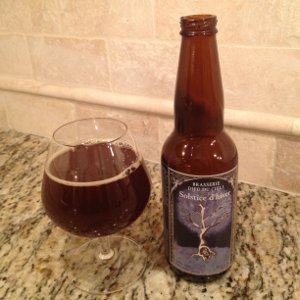 Brasserie Dieu Du Ciel! Solstice d'hiver – These wacky French Canadians threw me a wicked curveball the last time I tried them, an utterly fantastic take on a Scotch ale, so I made preparations to try more. This Winter Solstice beer pours a cloudy dark brown color with just a thin layer of quickly disappearing head on top. Smells of caramel malts and fruit, with some hops peeking through as well. Taste is sweet, filled with that rich caramel flavor with the fruits showing up in the middle and finish. Some hop presence as well, but nothing overboard like a lot of American barleywines. Mouthfeel is full bodied, rich, and smooth, almost creamy. There's just enough carbonation to make it palatable, so it's smooth without being still, if you know what I mean. Overall, this is a very well crafted, balanced brew. Not as eye opening as with my previous Dieu Du Ciel experience, but a pleasant one nonetheless. B+
Beer Nerd Details: 10.2% ABV bottled (11.2 oz). Drank out of a snifter on 12/23/12.
Emelisse Winterbier 2011 – I've heard good things about these brewers in the Netherlands and have had some pleasant experiences with their brews first hand, so let's try some more. Pours an amber brown color with minimal head. I inadvertently poured a big slug of yeast into mine glass, so this thing was cloudy as can be, with chunks o' yeast floating all around. Fortunately, that didn't adversely affect the beer, at least by my count. Nose is quite nice, fruity sweet with what could have been spice, but I couldn't quite place it. I may be imagining things. Taste follows the nose, nice sweetness with ripe fruits and a note of brown sugar, finishing with a balancing bitterness. Booziness is apparent, but not overpowering. Mouthfeel has a low carbonation, perhaps too low, bit it comes together well enough. Medium bodied, a little booze. Overall, a solid wintery ale, but I think I'd rather have had a fresh bottle. Still, these crafty Netherlanders intrigue me enough that I'll seek out more of their stuff… B
Beer Nerd Details: 9% ABV bottled (11.2 oz). Drank out of a tulip glass on 12/26/12.
A thousand pardons for the lack of pictures on two of these. I'd fire up MS Paint, but I'm no artist (read: I'm too lazy at the moment). You'll just have to use your imagination. This, more or less, wraps up the holiday beers for this year, but don't you worry, I've got plenty of facemelting stouts and barleywines on the way, wintery to their core, and perhaps a few IPAs and sours as well, just to keep things interesting. Stay tuned.