Welcome to autumn, fuckheads! The much maligned pumpkin beer has seen better days. Once a staple craft beer gateway, I'm sure it still sells plenty, but it's not quite as ubiquitous or popular as it once was. They've always been deeply uncool in the beer dork community, but I've generally tried to make room for one or two dips into the pumpkin realm, especially when a brewery does something interesting with it (but hey, there are even standard takes can be perfectly cromulent).
Allagash Ghoulschip is certainly trying to do something different. They get into the season by brewing a beer with fresh Maine pumpkins, molasses, and raw pumpkin seeds (notably absent are the infamous pumpkin spices), then dumping the results into their coolship (see what they did with the name of the beer there?) to collect wild microflora from the autumn air. It's then fermented in stainless and aged in oak barrels.
They make sure to note that this isn't spontaneously fermented, but the trip to the coolship does give it souring microflora, which is good enough for us American heathens. When you take the result and apply a gueuze-like blending regimen with 1, 2, and 3 year old beers, the result is certainly something different for a humble pumpkin beer.
I've wanted to try this beer for a while now. All the cool kids were drinking it, and it's always nice to have some seasonally appropriate beer to drink during the Six Weeks of Halloween horror movie marathon. It's fall, fuckfaces. You're either ready to reap this freaky-assed harvest or you're not.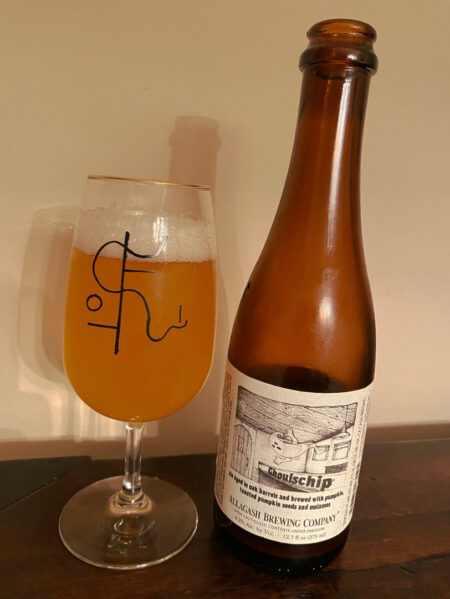 Allagash Ghoulschip – Pours a slightly hazy golden yellow color with a couple fingers of soft white head that slowly recede but don't disappear for quite a while. Smells great, lots of earthy funk, a little oak and vanilla, hints of brown sugar and some light tart fruit. Taste starts sweet, hits some earthy notes, plenty of puckering sourness, a bit of fruit. Mouthfeel is highly carbonated, crisp, and dry, moderate to high acidity. Overall, I doubt anyone would peg this as a pumpkin beer and it gives credence to the idea that pumpkin doesn't taste like much (what we associate with pumpkin is the spice, which this beer doesn't have) and while this isn't Allagash's best, it's interesting and certainly seasonally appropriate. B+
Beer Nerd Details: 8.2% ABV bottled (375 ml caged and corked). Drank out of a flute glass on 10/14/22. Date Bottled: August 2021.
Seasonal posting will continue shortly with a recap of Oktoberfests, hopefully in October proper.