A travelling friend recently procured a bottle of this Fantôme pumpkin saison for me, so I saved it for Halloween. Near as I can tell, this was a one-off brew from the 2012-2013 timeframe (just before the Smoketôme era), which indicates that there are some areas in this country that get lots of Fantôme that just sits on shelves. What is wrong with you people?
Anyways, these bottles had a reputation as being gushers such that, if you turned them upside down whilst opening, they could propel you into low earth orbit. Um, anyway, this sort of thing usually makes for a poor experience (and perhaps explains their current availability five years later) and I can confirm that when this happened with a different bottle a little while ago, it was pretty much a lost cause. Fortunately, my bottle of Boo did not have this problem (and unfortunately, I still haven't visited space). This could be the extra few years talking, but it could also be Fantôme's infamous lack of consistency manifesting. Whatever the case, it was a nice, spooky choice for Halloween night: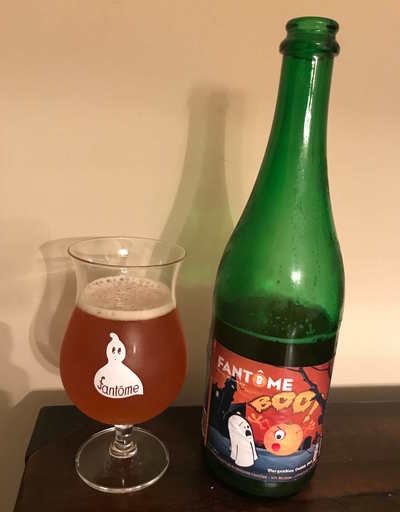 Fantôme Boo – Pours a murky, moderately dark orange color with half a finger of white head. Smells sweet, a little spice, and that trademark Tôme funk. Taste has some saison spice to it, lots of earth and funk, all somewhat muted by age. As it warmed up, the spice began to feel more peppery, even a hint of spicy hotness (as opposed to spicy clove or cinnamon or something, which is not here). Mouthfeel is sharply carbonated, medium bodied, and it's got some spicy heat. Overall, this is a minor ghost, a little long in the tooth, but an interesting spin. B
Beer Nerd Details: 8% ABV bottled (750 ml corked and capped). Drank out of a tulip glass on 10/31/17.
In fairness, I was coming down with a bit of a cold at the time, so perhaps I wasn't in the best condition for a true evaluation. Also, my deprivation chamber was on the fritz, so I was just sitting on my couch watching horror movies (Halloween and Trick r Treat, in accordance with tradition), which also matters. I'm the worst. Anyway, Fantôme is always an interesting drink and I'm sure it won't be long before we tackle another offering…