The most wonderful time of the year has rolled around, bringing with it the requisite leaf piles, mutilated pumpkins, paper skeletons, decorative corpses, "fun" cobwebs, and other oxymoronic traditions that are nominally ghastly but suddenly become socially acceptable during this season of seasons. Oh there's also tons of complaining about pumpkin beer and other pumpkin spiced abominations. As per my personal orthodoxy of "extremist moderation", I generally find everyone's reaction here overblown. Pumpkin beers are fine and I always make room for a few in my beer drinking agenda, especially when I can find one that's an interesting take (read: someone put it in a barrel).
This year's entry in the "pumpkin beers can be perfectly cromulent" sweepstakes is Bottle Logic's The Spice Must Flow. Since everyone's first joke of the season is now (and frankly should be) Decorative Gourds, I have started to rely on my backup of Dune related humor. Fortunately, Bottle Logic has already gone and done that work for me. Clearly members of House Atreides. (Kaedrin: Come for the beer, stay for the cutting edge cultural references.)
Anywho, Bottle Logic is one of the new hotness breweries out of Anaheim, CA and their wares have been melting faces amongst a certain subset of the beer dork community, particularly when it comes to their barrel-aging (and I guess coffee-dosing) program. What we have here is an ale brewed with pumpkin, coffee, and spices, then aged in rum and bourbon barrels. Look, I know some of you hate pumpkin beers, but this sort of beer is why I end up drinking some every year. It feels a little weird for this to be the first thing I write about, but then, everyone knows about Fundamental Observation and Darkstar November (I've had the latter, it's great). Not everyone can fold space and time, as the spice melange can: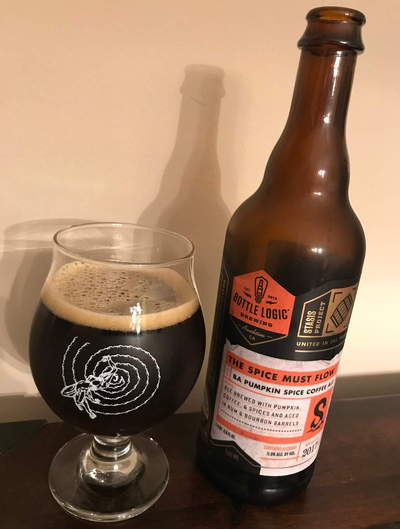 Bottle Logic The Spice Must Flow – Pours a dark brown color with a finger of light tan head. Smells of coffee and pumpkin spice, cinnamon, nutmeg, ginger, a little caramel and brown sugar too. Taste hits some rich caramel, toffee, brown sugar, with coffee and pumpkin spice emerging quickly, followed by oak and vanilla, a hint of bourbon and rum. As it warms, the coffee takes a backseat to the pumpkin spice. I'm sure some would hate that, but my coffee ambivalence means that I kinda love it. Mouthfeel is well carbonated but rich and full bodied, hints of pleasant booze, perfectly balanced. Overall, this is awesome, even with the coffee. A-
Beer Nerd Details: 11.9% ABV bottled (500 ml). Drank out of a snifter on 10/7/17. Vintage: 2017. Batch: 2 (label sez Level 2)
I've had a couple barrel aged offerings from these folks and they're fantastic. Some of their more normal beers are solid too, but the Barrel Aged stuff is where it's at. I will most certainly be looking for more.