Colorado's Casey Brewing and Blending was unleashed upon the world in 2013 and the trading boards have been awash with ISOs ever since. They focus on wild fermentation, oak aging, and blending, which attracts a certain type of beer dork. Including me, apparently.
What we have here is their base saison offering. Made with all Colorado ingredients, this is initially fermented in open oak barrel fermenters, then moved into other oak barrels (presumably sealed ones) for further aging. Casey has probably become much more famous for their fruited variants of this sort of thing, but this one isn't anything to sneeze at. SO STOP SNEEZING AT IT.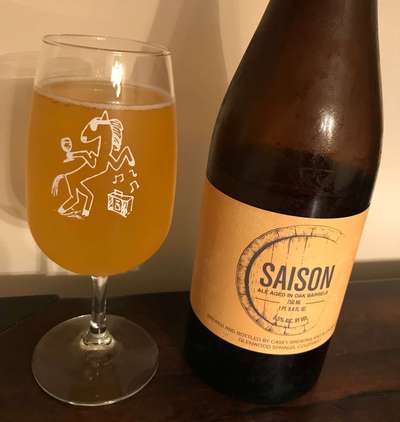 Casey Saison – Pours a hazy, very pale straw yellow color with half a finger of quickly dissipating head. Smells nice, oak, vinous fruit, a little lactic funk, hints of saison spice. Taste is sweet and tart, vinous fruit up front, with some sourness kicking in quickly, followed by some of that yeast spice, finishing with another sour bite. Mouthfeel is well carbonated, medium bodied, with moderate acidity. Goes down quick. Overall, this is a great sour saison. A-
Beer Nerd Details: 6% ABV bottled (750 ml). Drank out of a flute glass on 10/13/17. Bottled: 3/28/17.
I have had the good fortune to have tried three other Casey beers, one of which, the Casey Family Preserves Montmorency Cherry, was one of the best years I had all of last year. I will obviously be on the lookout for more of their wares.