de Garde has made a several variants of a beer called Saison Desay. Near as I can tell, they had no real reason to use the word Desay (I mean, maybe they're big fans of the crappy electronics company or perhaps the unique wooden window found in Kathmandu, but I'm doubting it)… until I saw this beer. Did… did de Garde wait three years to blend this beer just so they could make an Odyssey pun with this beer name? I'm probably just the worst, but I like to think that someone at de Garde was willing to go to such elaborate lengths for such a trivial pleasure.
Anyway, this beer is a blend of one, two, and three year-old oak barrel and oak tank matured Petit Desay. A neat, gueuze-like approach to the blending (though obviously not an actual gueuze, which has additional rules concerning wheat in the mashbill and aged hops, etc…) makes this one of the more intriguing offerings I managed to acquire from these Oregonian spontaneous ballers… I couldn't find any details on the proportions of the blend, but I think it's safe to assume that there is more of the younger components and less of the older. Whatever the case, it's a worthwhile exercise. A beer odyssey, you might say: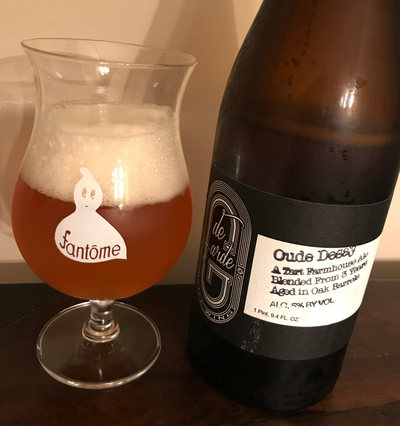 de Garde Oude Desay – Pours a slightly hazy golden orange color with tons of head that sticks around and even leaves a bit of lacing. Smells great, saison yeast spicy phenols and fruity esters, definitely a light, raisiny character that aged Belgian styles give off, but also some musty, earthy funk lingering in the background. Taste hits those saison notes up front, spicy with cloves, fruity with vinous fruit, hints of raisin, but this is all overtaken by a growing sourness in the middle through the finish. Mouthfeel is light bodied, crisp, dry, highly carbonated and effervescent, with a moderate and pleasant acidity. Overall, this is the best de Garde I've had yet, certainly reminiscent of the others (they're all saisons of similar stock, so I guess this makes sense), but with more complexity and balance. A
Beer Nerd Details: 5% ABV bottled (750 ml). Drank out of a flute glass on 9/8/17. Batch 2 (I think?)
As per usual, I'm always interested in checking out more from these fellows at de Garde. Alas, nothing in the pipeline. Woe is me.