According to my records, I haven't done a proper review of an Ommegang beer in almost 5 years. Can you imagine that?! Yes, well, you are pretty sharp, so I'm not surprised that you can, indeed, imagine that. My three readers are the best. Anyway, it's perhaps fitting that the last review was Ommegang's XV Anniversary beer, a rock solid Belgian Strong Dark. Since that time, Ommegang seems to be most famous for their Game of Thrones series of beers, popular but mostly unremarkable. Ommegang does occupy a special place in Kaedrin history though (being that they were the ones that introduced me to great beer way back during the turn of the century timeframe), so I'm glad they've stepped up their game for this 20th Anniversary brew.
This beer starts out as something similar to that XV Anniversary beer, a Belgian Strong Dark, but then it spent a few months in old Buffalo Trace Bourbon barrels. Sometimes I find that bourbon barrels overwhelm the more subtle Belgian ale characteristics. Will that be the case here? Spoiler: nope, this is great!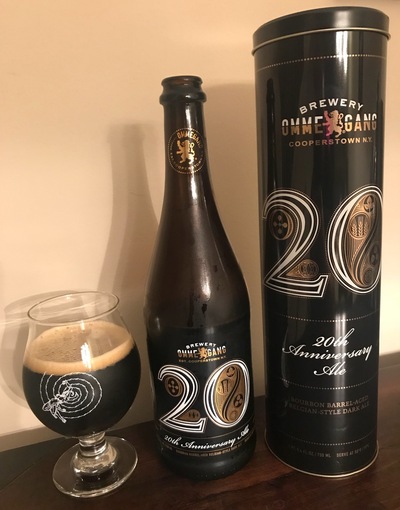 Ommegang 20th Anniversary Ale – Pours a clear, very dark amber brown color with a finger of off-white head. Smells great, lots of fruity esters, dark fruit, some spice, clove, and hints of boozy bourbon. Taste hits more of those spice notes than the nose, lots of clove, some sweet, rich caramel, molasses, a little of those fruity esters, finishing on a boozy note. A light touch on the bourbon and oak character, but it's clearly there. Mouthfeel is highly carbonated, medium to full bodied, moderately rich, a little booze. Intense, but very well balanced. The bourbon contributes while not overpowering the more subtle Belgian notes. Overall, this is pretty darn good. A-
Beer Nerd Details: 11.8% ABV bottled (750 ml caged and corked). Drank out of a tulip glass on 10/14/17. Vintage: 2017.
Good ol Ommegang. It's been far too long, old friends, and I see you've been doing some more interesting stuff, like brett-dosed beers and more barrel aged variants. Nice.