New York City has quietly begun to establish itself with some standout breweries. They've always had Brooklyn, and last time I was there, Captain Lawrence was the lone savior on generally tepid taplists, but now places like Other Half and Grimm Artisan Ales popping up, putting out cans of beer that have godforsaken beer dorks lining up for hours.
Or wait, where is Grimm from? This label sez it's brewed by Grimm at Beltway Brewing Co, Sterling, VA. Looks like we have another Gypsy on our hands you guys (oops, they call themselves a "Nomadic" brewer, a thousand pardons for not glomming onto the right hipster codeword), and yes, it looks like they're collaborating their arse off as well. Some interesting stuff coming, too. In particular, they brewed a batch of Mosaic hopped Braumeister Pils with Victory (this will hopefully show up around here soon, and I'm most excited to try it) and collaborated with Fantôme on a saison. My kind of Gypsy, is what I'm getting at here.
So what we have here is a nice little imperial stout aged in 11 year old bourbon barrels (original batch was aged in Elijah Craig 12 barrels, so mayhaps the new NAS barrels were used for this?) No big whoop.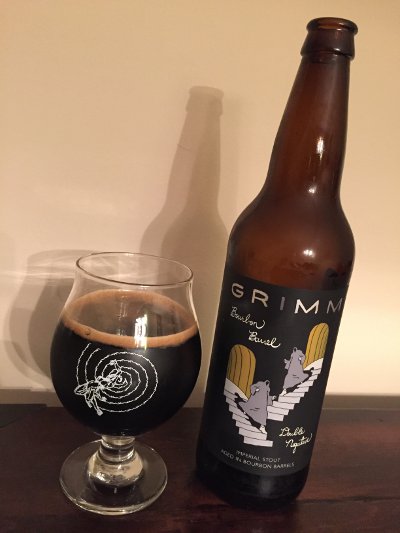 Grimm Bourbon Barrel Double Negative – Pours a very dark brown, almost black color with half a finger of light brown head. Smells of roasted malt, vanilla, caramel, and a little bourbon and oak. There's something I can't quite place here as well, not brown sugar, but maybe something along these lines. Taste starts very rich, some roasted malt character, and then that weird flavor I can't place, and maybe even some bitter hops in the finish. Mouthfeel is rich, full bodied, thinning out a bit towards the finish (not thin, but not as rich as the beginning). Overall, this is very good, but not top tier stuff. B+
Beer Nerd Details: 10.3% ABV bottled (22 ounce bomber). Drank out of a snifter on 4/22/16.
There's also a Maple Bourbon version of this beer which is, you know, sploosh, but I'm pretty on board with the whole Grimm program. I also recently got a taste of their Super Spruce Gose which was very impressive. At this point, I'm definitely seeking out more from these guys.