This brewery is named after the Trillium, a perennial flowering plant native to North America. Translating to "three parted lily", it is often associated with the Christian doctrine of the Trinity (because of its three flowers as part of one plant) and perhaps due to its early medicinal use among Native Americans, some think it symbolizes American durability and balance. The Boston homebrewer-turned-pro JC Tetreault (Interestingly, his blog from homebrewing days is still online) thinks it symbolizes what he's attempting to achieve with his brewery.
I had the great fortune of stopping in at their brewery during Operation Chowder to pick up some bottles. It's a neat little place, located in Boston proper, they appear to have crammed a lot into a rather small space (including what appear to be quite a few barrels, which is pretty exciting). The retail shop is really only for selling bottles and growlers (apparently in their early days, they would serve beer there, but as their popularity waxes, they have to keep that line moving), and I was happy to snag a handful of such. They recently announced plans to open a new, larger facility, so here's to hoping these beers become more plentiful.
What we're covering today is Congress Street IPA (guess what street the brewery is located on?), which appears to be a Columbus and Galaxy hopped wonder. Then we've got a "Super Saison" dry hopped with Centennial hops called Sunshower. Both are music to my earballs, so let's dive in:
Trillium Congress Street IPA – Pours a murky, cloudy light yellow color with a finger of white head (very in line with the Hill Farmsteads and Tired Hands IPAs of the world). Smells intensely of tropical fruit hops (Mosaic up in here? Nope, apparently that's Galaxy hops), almost like mango juice or something like that, a superb, amazing nose. Taste has a sweetness up front that quickly transitions to citrusy, fruity hops, less juicy than the nose would imply, a little dry bitterness in the finish. Mouthfeel is well carbonated, crisp, and refreshing, more highly attenuated and dry than expected, but really quite quaffable. Overall, rock solid IPA and it's holding its own despite my attempt to drown myself in hoppy Vermont beer. A-
Beer Nerd Details: 7.2% ABV bottled (750 ml capped). Drank out of a tulip glass on 6/6/15. Bottled: 05/26/15.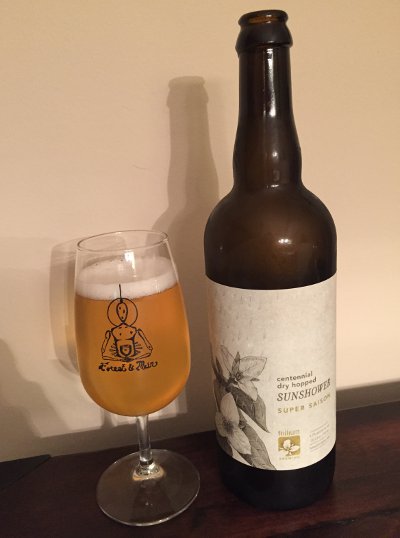 Trillium Centennial Dry Hopped Sunshower – Pours a mostly clear straw yellow color with a finger of white head. Smells of peppery saison yeast, clove, coriander, with big floral notes and hints of citrus. Once again, the nose on this is absolutely beautiful and I could sniff this stuff all night. Taste follows the nose, lots of spicy saison yeast, pepper, and clove, hints of citrus peeking in towards the middle. Mouthfeel is well carbonated, lower medium bodied, smooth. Feels much lighter than an 8.5% ABV saison. Overall, this is very nice stuff. B+
Beer Nerd Details: 8.5% ABV bottled (750 ml capped). Drank out of a flute glass on 6/6/15. Bottled: 05/26/15.
Well that's quite a nice first impression. I have bottles of Vicinity Double IPA (which will almost certainly be consumed this weekend) and Trillium Saison (which may wait a bit, but will surely not be long for this world). And it's a place I will most certainly have to return to again someday (and maybe finally get some lunch/dinner at Row 34, as that place looks amazing).