During previous sorties into Vermont, I liked to play a little game I called Vermont Beer Roulette* wherein I would grab bottles of beer from a Vermont brewery that I'd never heard of before and try them out. This is how I discovered obscure breweries like Switchback, Foley Brothers, Bent Hill, and Crop Bistro.
So far, the most eye-opening random discovery of Operation Cheddar III: Cheddar Harder has been Lost Nation. The founders got their start at Von Trapp Brewing, then set out on their own with Lost Nation in 2012, releasing their first beers in 2013. They focus on "lesser known European beer styles" like Gose (a beer we'll get to soon enough!), but this is Vermont we're talking about here, so they have some hoppy offerings as well. This is a 4.8% Session IPA (a style I will forever call American Pale Ale) brewed with wheat and presumably hopped generously with Aussie Galaxy hops. I get the impression these are limited cans only available at the brewery, hence the nifty but clearly improvised can labels (Alchemist did something similar with early batches of Focal Banger), let's go in for a closer look: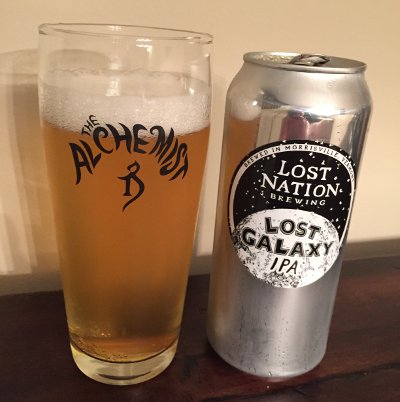 Lost Nation Lost Galaxy – Pours a very pale, clear yellow color with a finger of fluffy whitehead. Smells strongly of citrus hops with perhaps a note of slight spice to it, those nose certainly makes a nice first impression. Taste starts with those citrus hops, moving into a light spice (not belgian/saison spicy or anything like that, but something light and earthy) and a biting bitterness in the finish. Mouthfeel is very light bodied, almost watery (in, like, a good way), well carbonated, and quaffable. Should have sprung for more cans of this (I elected to split a 4 pack of this and the Gose with friends), as it's quite drillable. Overall, it's a great little session beer, light but tasty. B+
Beer Nerd Details: 4.8% ABV canned (16 ounce pounder). Drank out of a willibecher glass on 6/7/15. Canned on 5/22/15. Can also sez: HEY MAN, presumably another batch code or perhaps they're just saying hi.
I am fortunate enough to have several other rather exciting beers on deck from Lost Nation and have indeed already cracked open my lonely can of Gose and taken some notes (which I may or may not get to this week – I'm behind on reviews for some unfathomable reason). I will most assuredly be returning to Lost Nation on the next Operation Cheddar trip, which may be happening sooner rather than later…
* A variant on my earlier game, Belgian Beer Roulette, where I simply find a Belgian beer I never heard of before and try it out.