Of the holy triumvirate of Vermont breweries, Lawson's Finest Liquids seems to be the most difficult to find. The past couple years, I've been lucky enough to snag a few bottles of Double Sunshine IPA, a truly fantastic and highly sought after Double IPA. I can't really complain about that, but I'm also a novelty whore and I really wanted to try more of their wares. During the latest Operation Cheddar, I managed to get a taste of Super Session IPA #2 (and maybe another variant in that series, though I'm not sure which one), which was welcome. At ACBF, I managed about 5 ounces of their beer, including a truly glorious taste of Triple Sunshine, and some decent Rhubarb Basil Saison too. But 1-2 ounce tasters don't really satisfy, not like the snickers of beer (which I guess in this context means a full pour, bottles, or cans. Alright fine, it was a poor analogy and I don't even particularly care for Snickers. I'm more of a Twix man. What were we talking about?)
Recently though, it looks like Lawson's has established a flagship beer, a Double IPA called Sip of Sunshine that is planned to be available year-round. Yes, they really seem to enjoy drinking sunshine at Lawson's. To make this possible, Sean Lawson travels to Connecticut once a month to brew a very large batch at Two Roads brewing, packaging them in handsome 16 ounce cans for good measure. These seem to be much more widely available than anything else I've seen, and while I only picked up two 4 packs during my recent trip, I could have probably bought a full case if I wanted to. This is excellent news, though I'm really hoping that my triumphant return to Vermont in early July means I'll be able to snag a different bottle from Lawson's. Otherwise, I might just have to settle for more Sip of Sunshine. The horror!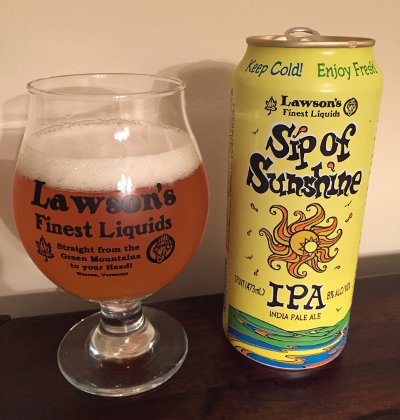 Lawson's Finest Liquids Sip Of Sunshine – Pours a mostly clear golden orange color with a finger of creamy white head. Smells fantastic, sugary sweet citrus, fruit, and some resinous pine. Taste is very sweet, some crystal malt hanging around, but the dank, citrusy hops are the real star here, some pine and bitterness emerging in the finish. Feels a little more dank and resinous than Heady, but it's not a pine bomb either. Mouthfeel is well carbonated, medium bodied, hints of sticky resin but not at all boozy, drinking like a lighter ABV beer. Overall, it's not Double Sunshine, but it's up there and certainly contends. A-
Beer Nerd Details: 8% ABV canned (16 ounce pounder). Drank out of a tulip glass on 6/12/15. Canned: 05/06/15.
Fingers crossed that I can find some other variety of Lawson's on the forthcoming Vermont trip, but I certainly won't complain about scoring more of this stuff.