Forest & Main is a tiny little brewpub in Ambler, PA, which is not really that far from Kaedrin HQ in the grand scheme of things, but is probably a hair too far across the border of what is actually convenient for me, so I don't get my butt up there as often as I probably should. Also, as I've noted before, they share a certain DNA with their chums over at Tired Hands, and I always feel like I'm cheating on my favorite brewpub when I hit up F&M. That being said, they're a solid little brewery and I'm always intrigued by their offerings. Also I don't actually feel like I've been cheating on Tired Hands. That's absurd. Anywho, I've been very neglectful of posting about my visits, so I actually took some basic notes this time. Not great notes, but notes nonetheless. Work with me here. I was drinking.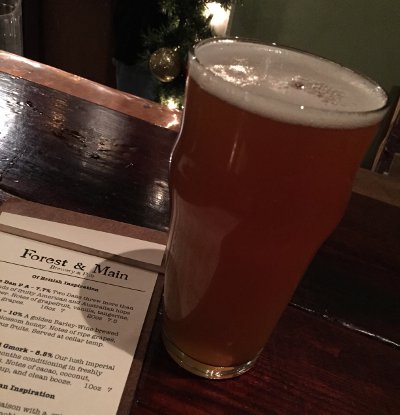 Double Dan PA – Made with two dudes named Dan and a generous helping of American and Australian hops (um, the Dans in question were not, like, ingredients or anything. This isn't a drink of my blood situation or anything). Fantastic citrus nose, with a little pine sneaking around too. More dank resin and pine in the taste, with that citrus brightening things up… Medium bodied, well carbonated, crisp, refreshing, well balanced stuff. Overall, this is probably the best IPA I've had from Forest & Main (though it's not like I've had a ton) and a worthy, distinct take on the style. A-
Beer Nerd Details: 7.7% ABV on tap (16 ounce). Drank out of a nonic pint glass on 12/30/14.
Telemachus – Described as a golden Barleywine made with orange blossom honey. It has a very distinctive, flowery, sweet nose, probably that orange blossom honey coming through strong. Taste is similar, mostly that honey character coming through with very little in the way of malt backbone, though you do get a bit in the way of booze. Low carbonation (if I remember correctly, it was on cask) and medium bodied. This is a very interesting beer, but it doesn't really tickly my subjective fancy, if you know what I mean. B
Beer Nerd Details: 10% ABV on tap (10 ounce). Drank out of a wine glass on 12/30/14.
Rum Barrel-Aged Gmork – Black as night, not much head. Smells of caramel, brown sugar, molasses, rum, vanilla, and the faintest hint of roast. Taste follows the nose, very, very sweet, no roast at all, brown sugar and molasses, rum, almost fruity. Mouthfeel is full bodied, moderate carbonation, slight booziness. Overall, a unique take on the style, I wish I'd actually had the base beer to compare it to, but this is pretty darn good on its own. A-
Beer Nerd Details: 8.5% ABV on tap (10 ounce). Drank out of a nonic half-imperial-pint glass on 12/30/14.
And there you have it. I had a saison that was on tap that night with my burger, but I neglected to take notes because my hands were full and as we've already established, I'm the worst. Hopefully I'll make this more of a regular thing in the future. In the meantime, I think I hear Tired Hands' siren song…