It's January! Cold, desolate January! You know what that means? It means it's time to drink some obscure saisons from Switzerland. Brewed for the 15th anniversary of BFM (hence the square rooting of 225, though it's unclear why they squared it in the first place), those wacky swiss brewers that make Abbaye De Saint Bon-Chien, this is a rustic saison style beer aged in old Bon Chien barrels (i.e. mostly third use wine barrels). There appears to be some sort of blending of aged beer and fresh beer, but Google translate produces text that is charmingly vague on the matter. So grab your slide rules, nerds! It's time to take the square root of saison: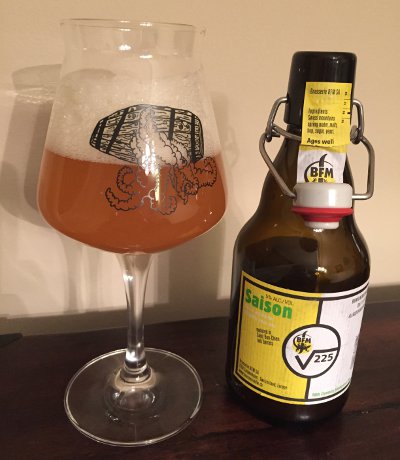 BFM XV (√225 Saison) – Bottle isn't quite a gusher, but it could easily get that way if you're not careful… Pours a very cloudy golden yellow color with huge amounts of billowing, dense head and visible sediment. Smells funky, with tart, vinous fruit, oak, and a little mustiness. Taste hits standard saison tropes pretty hard up front, sweet with spicy Belgian yeast, but then the tart, vinous fruit emerges in the middle, white wine, grapes, a little oak with some musty funk closing things out. Mouthfeel is highly carbonated, crisp, and effervescent, low to medium bodied, oak tannins and yeasty spice dancing around. Overall, this is an excellent little saison. Don't let it linger on the shelf (or do, it will be more for us). A-
Beer Nerd Details: 5% ABV bottled (33 cl swing top). Drank out of a teku on 1/17/15. Batch 3. Best by 2016.
I've got a bottle of 2013 Bon Chien that I'm hoping to spring on some unsuspecting friends next week, which should be fun. And I may need to snag something else from these folks, though who knows what I'll tackle next.