You might not know this, but half of the United States' mushrooms come from Pennsylvania, specifically around the area of Kennett Square and surrounding towns. It's more of a historical accident than anything else, starting with industrious Quakers who couldn't bear to waste the space under elevated beds in greenhouses (and also the prodigious horseshit-production of a major city like Philadelphia). It caught on, and now we've got this growing movement of foodies who grow mushrooms in their kitchens and small artisanal farms like Woodland Jewel Mushrooms who supply local eateries with exotic gourmet mushrooms.
Given Tired Hands predilection for collaborating with local farmers, it's no surprise that they've tapped Woodland Jewel to make an Oud Bruin conditioned on Donko Shiitake mushrooms (according to Wikipedia, these are particularly high grade mushrooms, though a citation is neeeded!). This originally appeared at a beer dinner a while back, but has thankfully been bottled up and snagged by the likes of me. I like that the label features a mushroom that looks like it's watching me. Downright cyclopean, if you ask me: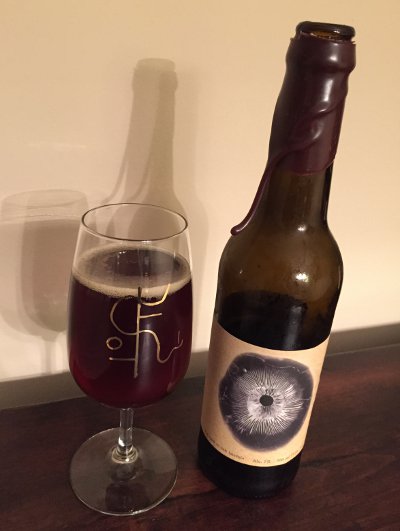 Tired Hands WoodLaHands – Pours a very pretty dark amber color (looks great when held up to light) with a finger of fizzy off white head that nevertheless manages to stick around a bit (though not long). Smells beautiful, tart fruit (cherries), Rodenbachy vinegar with an earthy kick and plenty of oak. The earthy notes really come to the fore up front in the taste, followed by oak and vanilla in the middle, rounding out with a vinous, acetic sour fruit character towards the finish. I'm not a wine guy, but tannins. That's a word, right? Mouthfeel is hefty enough to support the flavors, well carbonated, a little sharp acidity leading directly into a drying finish. Overall, another winner from Tired Hands. Perhaps not as perfectly integrated as some of their fruited sours, but we're talking about rarified air there and this is still great. A-
Beer Nerd Details: 7% ABV bottled (500 ml waxed cap). Drank out of a flute one 11/7/14. Bottle release: 11/2/14.
One of these days, I'll have to post another recap of draft-only Tired Hands stuff. On the other hand, I probably have, like, 50 beers on that list at this point, and most of them will never see the light of day again, so perhaps I can just leave it at that.