It's hard to believe that it's only been two years since Tired Hands arrived on the scene and started melting faces with their amazing saisons and quaffable pale ales, amongst other strange and beautiful beers. To a beer nerd like myself, having a brewery of this quality and with these specialties even remotely close to my home has been a Godsend. Two years of fantastic beer, and the future is looking rather bright.
Like last year, the second anniversary celebration yesterday was a total madhouse, and given what they were pouring, totally worth it! I was fortunate enough to snag a seat at the bar rather early on, and my neighboring bar sitters were a lot of fun, which was great. For the sake of posterity and to instill jealousy in you, my valued readers, some half remembered thoughts (based on hastily entered notes jotted into Evernote that I'm trying to decipher right now) on what I had are below.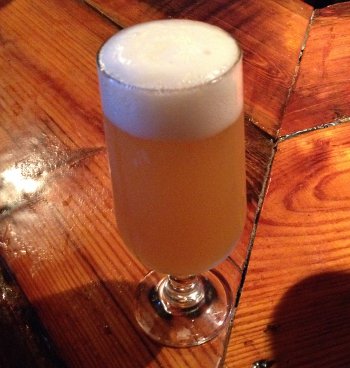 The Emptiness is Not Eternal – 7% ABV Oak fermented Sorrel & Dandelion Saison – The Emptiness series of collaborations with rockstar farmer Tom Culton continues with this beautiful oaky sour beer, a little more herbal and floral than previous incarnations (all of which were fruited, to be sure). Someone was saying that this resembled Hill Farmstead Vera Mae, though I feel like this is an entirely different beast (in particular, I think the oakiness of this separates it considerably, though the emptiness bugs that bring the funk are also distinct from whatever HF is using). That's all academic though, as they're both great beers. As Emptiness beers go, I think I prefer the fruited versions, but this is still fantastic. A-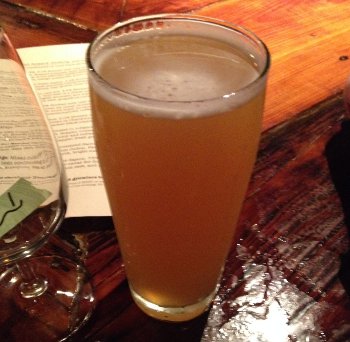 St.Twoer – 6% ABV Citrus IPA – Brewed with clementines and a wicked combo of Galaxy, Simcoe, and Motueka hops, this greatly resembles St.Oner (though this one has less notes of pun). Beautiful juicy IPA, lots of bright fruit and citrus hops, the $4 pint deal on this was well worth it.
Handfarm – 5% ABV Barrel Fermented Saison – At this point, I think I've had some of every batch of Handfarm. I've always loved it, but I think this is the first time I've ever seen it on tap and hmm, I think I might like it slightly better that way. A nice vinous and fruity funk character with a more balanced oak presence, I could have probably drank this all day. Still an A- in my book.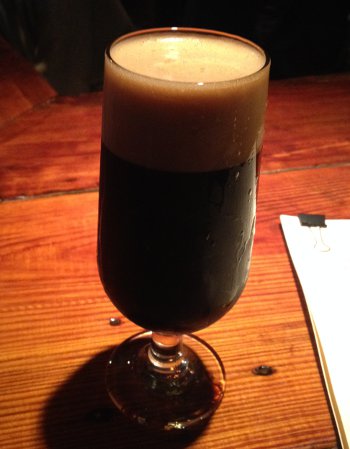 Only Void – Garlic Cask – 11% ABV Imperial Stout Cask Conditioned on local black garlic (!?) – Tired Hands has made some weird beers and done some wacky cask conditioned stuff before, but this one really takes the cake. Their description on the draft list they handed out: "Wweeeiiiiiiirrrdddddddd!" This is pretty accurate. The garlic comes through very powerfully in the nose, and much less so in the taste. This is a good thing. The nose is actually really interesting, almost like… pizza? Yeah, kinda like that. Roasty chocolate pizza? Er, not sure. It's perhaps not something I would seek out again, but I'm very happy I tried it because it is a billion times better than it sounds. One of those beers that's just fun to experience. No idea how to rate, so I'll just slap a B on it and be done with it.
American Youth – 5.5% ABV APA collaboration with Half Acre – One of two Half Acre collaborations on tap, this one was a quaffable pale ale that is basically comprised of a blend of Daisy Cutter and HopHands, with the result being a very aromatic, very light bodied and refreshing beer. I seem to be saying this about a lot of these beers, but I could have drank this all day. A-
Geodesic – 6.5% ABV Hoppy Spelt Saison – Alright, so I'm not afraid to say that I was pretty far gone by this point, so my memory here is a little hazy. That being said, it was a very nice funky saison, almost sour (but then, my palate may have just been completely wrecked at this point). This was the last beer of the day for me, so take this with a grain of salt, but instinct sez rate it a B+
Alright, so now we get to the weirdest thing of the whole event, which was the Parageusia Bar. For the uninitiated, Jean has been posting cryptic comments about some dude named Christian Zellerfield, described as the "talented Future Rustic contract-brewer", for a while now. No one really knew what was up with this guy or these Parageusia beers we kept hearing about, and the research department here at Kaedrin turned up almost nothing about them (other than Jean's cryptic pronouncements on social media). So at the Anniversary, you could buy two (very pretty) pieces of glassware, which would entitle you to a fill of each of the beers available (Parageusia1 and Parageusia2) at a little popup bar they set up in the tiny little second floor office. Only two people were allowed in at any given time, the room was all dark and moody, and the whole thing was very hush hush. When we got in there, we asked what was up with the beers, and the Euro-accented "representative" (who was not Christian Zellerfield) gave us the skinny: Cabernet Franc Barrel Fermented sour ales, one at 6.5% ABV, the other at 8.2% ABV. We asked where this guy was, and honest to God, his answer was that he was traveling in space, but that he had chosen Tired Hands to be the one place to distribute his beer in the Milky Way Galaxy (to me, this implied that other galaxies were awash in Parageusia beer, but the representative was evasive when I tried to press him on that).
So the rumor is that Jean is basically fucking with us, and this whole thing is an elaborate ruse. Or that Parageusia is real, but basically brewed entirely by Jean and his crew, and this Christian guy is the one who is yanking our chains. Whatever the case may be, it doesn't really matter, because both of these beers were spectacular. And that glassware is beautiful too…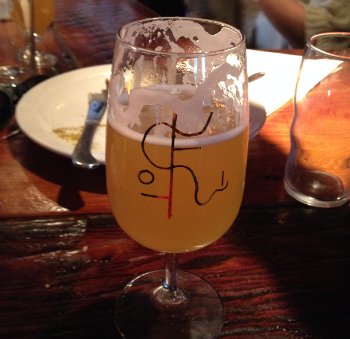 Parageusia1 – 6.5% ABV Cab Franc Barrel Fermented Ale – Wow, this is an amazing beer, rivaling the best of Tired Hands' output. Very sour, beautiful oaked character, funky, vinous, fruity, absolutely delicious. This was probably my favorite beer of the night. A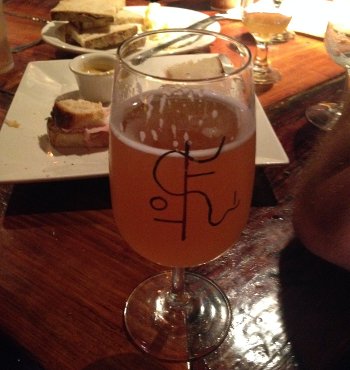 Parageusia2 – 8.2% ABV Cab Franc Barrel Fermented Ale – A slightly darker beer, a little more intense on the sour end of things, perhaps not as great as the Parageusia1, but still really wonderful in its own right (and really close in terms of the flavor profile). A-
The word Parageusia is apparently the medical term for a bad taste in the mouth, which could not be further from the truth. I don't know what the future plans for these beers are, but Jean has teased that bottles are coming, so I will most definitely be keeping an eye out for that. Or whatever this crazy space traveling brewer brings to us in the future (or, perhaps, from the future?)
All in all, it was a fantastic day, though I will note that I was happy I took the train to get there! The only thing I didn't get to try was Negative Creep, an oak fermented Kiwi sour ale (it had not tapped as of my departure around 5 pm). Congrats to Tired Hands on two years of spectacular beer, and things are only looking up from here. The next year should see a new brewery and a corresponding increase in output, which is most exciting. Stay tuned, I plan on continuing to make you jealous.