It has been far too long since I've written about our friends in Downingtown, PA. Victory's staple IPA, HopDevil, will always hold a special place in my heart, as it was probably the first beer that really got me to love hops. Sure, I'd had other pale ales before and thought they were fine, but HopDevil got me to love those citrus hops and bitter finish. Flash forward a decade later, and their line of IPAs was starting to feel a bit stale. HopDevil is still a staple beer and a sight for sore eyes at a lot of local non-craft focused establishments, and I really enjoy the occasional Hop Wallop, but I get the impression that Victory started to see their sales plateau despite the generally skyrocketing sales of IPAs overall.
Perhaps as a result, Victory slowly started fiddling with hops at their brewpub. In 2009 or 2010, they did a line of single hop pale ales called the Pursuit series. I had one of these by chance and wasn't a huge fan, but clearly the experimental aspect of the series was a success, because it culminated in Headwaters Pale Ale, which is a fantastic yet simple take on the lowly pale ale style (it's also a huge seller and may even have surpassed HopDevil to become Victory's flagship).
In 2011, they started playing with Double IPAs and worked with their contacts at hop farms to create the Ranch series (a name which seems to inspire visions of ranch dressing in all who hear it, but it's actually a reference to the hop ranches that victory sources from). This kicked off with Ranch S, which was Cascade single hopped (and which I quite enjoyed), then Ranch R, which was Centennial single hopped (and which I didn't like as much). Things proceeded from there, with other single hop beers (Chinook, Simcoe, Citra, etc… most of which I did not have) and then some hop combos (Philly Beer Week saw a Simcoe and Amarillo combination that was really quite nice). The Ranch series eventually culminated in Dirt Wolf, which uses Citra, Chinook, Simcoe and Mosaic hops. It's also one of the beers I'll review later in this post (sorry for taking so long to get to the point).
Now, to make matters more confusing, in the summer of 2013, there was a short offshoot of the Ranch series that had a lighter bodied malt bill and utilized a cleaner yeast strain. The first of these was called K-Bomb and it used an experimental hop known as ADHA 483 (it has since been named Azacca). It was quite nice! For Philly Beer Week, Victory evolved that recipe to include Mosaic hops as well, and called it Liberty Bell Ringer and that was a very well received beer. So Victory took that recipe, made some minor tweaks, and just released it in December as Hop Ranch (even though it doesn't really taste like any of the Ranch beers).
I suppose this could be confusing to local beer wonks like myself, but who cares about us? Especially since these beers are really very good. I really have to admire a brewery the size of Victory taking the time and effort to revamp their DIPA line into something worth talking about. I've had both on tap at the brewery and even got a growler of Hop Ranch, but I wanted to do a head-to-head comparison, so after I took in Wolf of Wall Street (a little overlong and vulgar, but also vibrant and energetic), I headed home, popped in The Place Beyond the Pines (very ambitious but also overlong, with an oddly structured story) to complete the double feature that would complement my dueling Victory IPAs: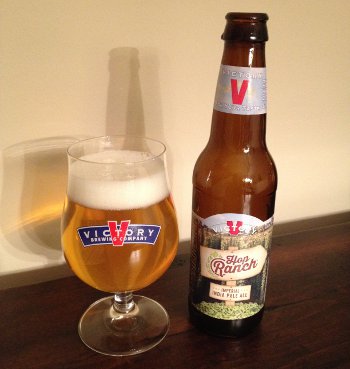 Victory Hop Ranch – Pours a clear, light golden yellow color with a finger of dense white head. Smells beautiful, mango, juicy citrus hops, very "new" IPA feeling. That's not a real thing, but it could be. You with me? No? Fine then, the taste is very sweet, juicy citrus hops (dat mango), nice balancing bitterness toward the finish. Mouthfeel is very light, crisp, clean, and tightly carbonated, smooth and dangerously drinkable. Maybe a hint of belly warming if you drink quickly. Overall, this is fantastic! A-
Beer Nerd Details: 9% ABV bottled (12 oz.) Drank out of a tulip glass on 1/4/13. Enjoy by May 19, 2014.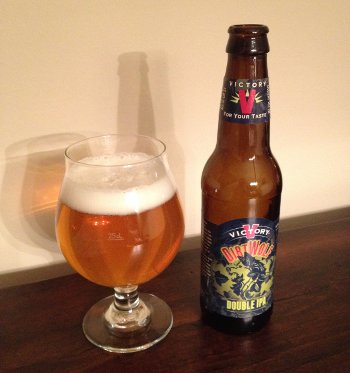 Victory Dirt Wolf – Pours a clear golden color, a little darker than the hop ranch, with a finger of white head and some lacing. Smells dank and resinous, some citrus notes, maybe even some malt and or yeast aromas. Taste definitely has that dank pine and citrus character, maybe even some kolsch yeast or something. Some malt too, more bitterness, and even a little booze (which is funny, because this is slightly less ABV). Mouthfeel is bigger and heavier, but not a monster. Pleasant boozy feel too. Overall, its very good, definitely better than most (if not all) of the Ranch series that I've tried, though I think I like Hop Ranch is better! B+
Beer Nerd Details: 8.7% ABV bottled (12 oz.) Drank out of a tulip glass 1/4/13. Enjoy by May 18, 2014.
It appears that 2014 has started out Victorious. I got a several Victory beers as gifts over the holidays and it's been fun. Old Horizontal will be making an appearance at the next beer club, and I'm sure I'll be hitting up some interesting stuff this year as well (now that the new brewery is up and running, we don't have to worry about capacity anymore, so I'm hoping for the return of stuff like Wild Devil, or more adventurous BA stuff)…