There aren't many traditional lambic breweries, but Brasserie Cantillon appears to be the most well regarded of them all. Founded in 1900, very little has changed since then. There's been a few new generations of head brewers and a shift towards using certified organic ingredients, but otherwise, most of the brewery is the same as it ever was, right down to the cobwebs (which are not removed; spiders keep the area clear of flies and mosquitoes which can provoke bad infections… as opposed to the, uh, good infections they get with spontaneous fermentation).
The Kriek is an annual production. Every summer, local cherries are brought in, macerated, and placed in barrels which are then filled with aged lambic (they say it's about 1.5 years old at that point). The sugars in the cherries restarts fermentation. After another spell of aging in the barrels, the flavor (and color) of the cherries becomes integrated with the beer, which is then bottled and bottle conditioned for a few months.
This is my first Cantillon. I figured I'd start with something "basic" and work my way up from there, but damn, this stuff is amazing and totally met expectations, which were rather high. I have a feeling that hunting for Loonz will be a new favorite pastime. Now, I didn't have a coolship or Solo cup, but I think I did alright: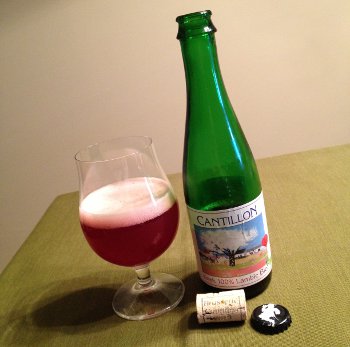 Cantillon Kriek 100% Lambic Bio – Pours a striking deep red color (robey tones, you know the drill) with a finger of pink head, decent retention too. Smells very funky, a little earthy, musty, lots of cherry, maybe even a little oak too. Taste starts sweet, with a well rounded fruity tartness emerging quickly, lots of cherry flavors mingled with a strong oak character. Absolutely delicious. Mouthfeel is highly carbonated, effervescent, crisp, and clean. Medium bodied, with some richness I'm going to associate with the oak. Not very acidic at all, though enough so that the sourness is felt. Overall, this is fantastic. Totally lives up to expectations, really beautiful beer. A
Beer Nerd Details: 5% ABV bottled (375 ml capped and corked). Drank out of a tulip glass on 4/26/13. Bottled: 1 February 2013.
Well, I have a feeling that I'm going to have to start grading Cantillon on a curve. That or I'm guessing I'll need to bust out some A+ ratings sometime soon.