Tired Hands is the brainchild of Jean Broillet IV and his wife Julie Foster. Jean began as a homebrewer, but quickly turned professional, starting at Weyerbacher Brewing Company where he learned the ins-and-outs of the brewing business. Eventually he moved on to the Iron Hill Brewpub in West Chester, PA (just down the road from me) and it was there that he fell in love with the brewpub model. After several years, he set plans in motion for his own brewpub, eventually landing in Ardmore, PA.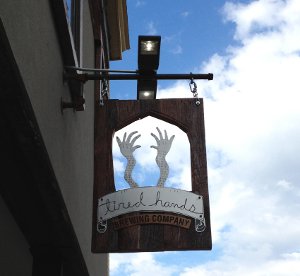 The greater Philadelphia area is home to numerous breweries, but few seem to inflame the passions of the Beer Advocate set (this isn't to say they're not any good, but that's a topic for another post). Tired Hands looks to be a local brewery that will join the rarified few that amaze beer dorks like myself. Drawing inspiration from the farmhouse brewers of France and Belgium and the heavy handed hop-heads of the US, Tired Hands has already made a splash, just a few short months after opening their doors in June, 2012. Just to give you an idea of how well their launch has gone, they've already collaborated with the insanely popular Hill Farmstead on a couple of beers, which naturally brought many beer nerds to attention (the first time I heard of Tired Hands was at the Hill Farmstead event during Philly Beer Week). Being a fool (or perhaps just because my liver wasn't up to the task), I didn't get to try that collaboration.
But all is not lost, as they're a reasonable hop and skip away, and I've lately thought it would be interesting to take a look at the smaller brewers of the area. And Tired Hands is indeed quite tiny, focusing on small batch brews (their website sez they make twelve-keg batches) and uber-local foodstuffs. It's not quite a full-blown restaurant, but they offer a nice selection of fresh baked bread, local artisanal cheeses, and charcuterie. Which, quite frankly, is enough for me!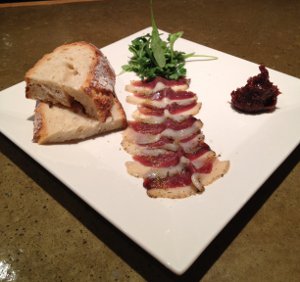 Duck Prosciutto
But what about the beer? I hear you, dear reader, so let's do this thing: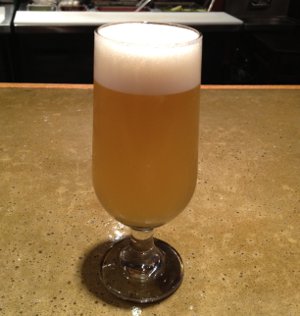 Tired Hands Single Hop, Saison (Simcoe) – As if saisons couldn't get more weird, here we have a traditional sweet and spicy saison liberally hopped with juicy American Simcoe varietals. Pours a cloudy, bright straw yellow with two fingers of pillowy head. Smell is full of piney simcoe and some fruity citrus, with a tiny, spicy Belgian yeast influence. Taste starts sweet and spicy (white pepper?), like a proper Saison, but then that simcoe pine and citrus hits, leading into a very dry, bitter finish. As it warms up, the Simcoe undergoes a bit of a transformation, with an herbal earthiness emerging into the fray. Mouthfeel is lightly carbonated, a little spicy kick, but ultimately smooth and compulsively drinkable. Overall, this is a superb blending of styles that I wouldn't have expected to work anywhere near this well. A-
Beer Nerd Details: 5% ABV on tap (8 oz). Drank out of a wine glass on 8/18/12.
One of the nice things they do at Tired Hands is allow you to get small 4 ounce samplers, which allowed me to get a much broader view of their available brews. Of course, I'm sure there are some beer nerds who will scoff at 4 ounces being enough beer with which to judge, so I guess take it with a grain of salt. For me, 4 ounces is probably the minimum amount, but enough. Whatevers, let's drink some beers: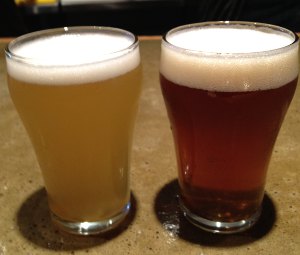 Tired Hands Hop-A-Tact (glass on the right) – Pours a copper color with a finger of head. Smells of bright fruity hops, some pine, and some sort of malt that I can't quite place. Taste also has that mysterious malt character (looking at their site after the fact, I see that this is brewed with oats, Victory malt, and a touch of black wheat malt – hardly typical IPA material) along with plenty of citrus and pine from the hops and a light bitterness in the finish. Straightforward medium body mouthfeel, not quite quaffable, but it goes down easy enough. Overall, a very solid,interesting take on the IPA, if not quite a face melter. B+
Beer Nerd Details: 7% ABV on tap (4 oz). Drank out of a mini-pint glass thingy on 8/18/12.
Borage Saison (glass on the left) – I've never heard of Borage before, but hey, why not brew a saison with mystery herbs? Pours a bright, cloudy yellow color with a finger of white head. Smells of spicy, peppery Belgian yeast, with a hint of light fruit and herbs. Taste starts sweet and spicy before drying out as the taste proceeds. Hints of fruit and herbs emerge too. Mouthfeel is smooth with a little bit of a spicy bite. Overall a very nice, complex take on a more straightforward Saison style. B+
Beer Nerd Details: 7% ABV on tap (4 oz). Drank out of a mini-pint glass thingy on 8/18/12.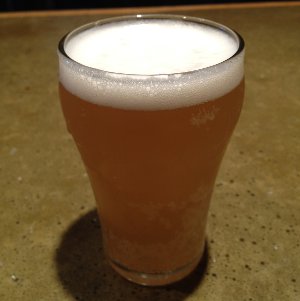 Tired Hands Mysterious Mood – Fermented and aged in old Chaddsford Winery barrels which, apparently, had contracted a small Brettanomyces infection. Music to a farmhous brewers ears. This one pours a slightly darker yellow than the other saisons, with a finger of light colored head. Smells of funk with just a hint of sour twang. Taste starts sweet, light spice, followed by a heaping helping of funk and some light sour twangyness. Mouthfeel is lightly carbonated and smooth. Overall a very nice take on a funky saison. B+
Beer Nerd Details: 5.1% ABV on tap (4 oz). Drank out of a mini-pint glass thingy on 8/18/12.
Tired Hands Deuce – A "Corn based hoppy brown ale", whatever that means. Pours a medium brown color (a bit light for something described as a brown ale) with a small, light colored, creamy head. Smells lightly hoppy, citrusy, some darkish malt (not roasty or anything like that, but not quite a brown ale either). Taste is sweet, with those darkish malts and nice citrus hop flavors without the bitterness. Mouthfeel is smooth, goes down easy, medium bodied. Overall a solid beer, but it's kinda struggling to find its identity. It kinda goes in a few different directions without really coming together. That being said, it's certainly an interesting effort and it went down easy enough, so there's that… B
Beer Nerd Details: 7.1% ABV on tap (4 oz). Drank out of a mini-pint glass thingy on 8/18/12.
Well, I can certainly see Tired Hands becoming one of my go-to local joints. I think they've done some limited bottling before, though I have no idea how often they're planning on doing that or if I'll ever get my hands on some. Given their tiny, local-based approach, I suspect bottles aren't going to be super common, but I'm definitely keeping an eye out. Well, this was a most enjoyable experience. I've already got a couple other local pubs/breweries on my radar, though I have no idea when I'll get to them…