Tonight's beer club was most excellent. Good turnout, really good beer, and an overall good time. For the uninitiated, the beer club is basically just a bunch of folks from my work who get together once a month to enjoy a nice dinner together… along with lots of different beers and wines and other alcoholic wonders. The past few months have been sparsely attended, so the beer selection was somewhat sparse, but tonight we had so many beers that we didn't even get to them all. As you might expect, lots of seasonal beers were brought, and we had a couple of quite excellent brews: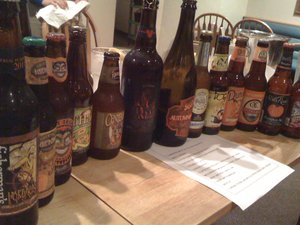 (Click for bigger image)
For reference, here are some brief thoughts on most of the pictured beers (some we did not get to, though at least two of those I will review separately). As usual, this isn't exactly ideal tasting conditions, so take them with a grain of salt. In order of tasting (not necessarily the order in the picture):
Well, that covers most of the beer we drank. We also had another of my homebrewed saisons (which, again, I should review, but not now) and some of the less beer inclined folks had a Leinenkugel Berry Weiss, but I kinda knew that's not for me, so I didn't try any of that. Of the unopened bottles, I'm sure I'll be trying the Warsteiner Oktoberfest this weekend, and I'll get to Founders Centennial IPA at some point as well.