So everyone was all excited by some sort of Royal Wedding last Friday? Sorry, us Americans don't really understand or care about that sort of thing, but there were a surprising number of beer-related stories to go along with the wedding (also, April 29 is apparently the anniversary of Hitler and Eva Braun's wedding). Beer nerds got deservedly uppity at the Royal pronouncement that Beer was not "an appropriate drink to be serving in the Queen's presence at such an occasion." Scottish brewers Brewdog had already made light of the whole affair with their beer called Royal Virility Performance, a 7.5% ABV IPA containing, among other things, herbal Viagra, chocolate, horny goat weed, and "a healthy dose of sarcasm." (Apparently a few bottles were sent directly to the royals – I wonder if they consumed them behind closed doors…)
Yeah, Brewdog's beer smacks of a publicity stunt, but that didn't really bother me, and in light of the Royals' disrespect, I actually think it's pretty awesome. So in honor of the wedding, I cracked open a few beers made at the Brewdog brewery. Not that I was watching any wedding coverage. No, to match up with the two beers, I decided I'd catch up on the first two episodes of Game of Thrones (it's quite good so far!)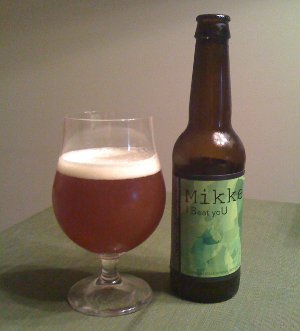 Mikkeller I Beat yoU – As previously mentioned, Mikkeller is a self-described "gypsy-brewer", meaning that he travels all around the world, brewing his beers on other brewery's systems. This one was brewed at Brewdog in Scotland, and according to their site, "the instruction for the Scotsmen was clear: we need shitloads of hops in this one!" And a shitload of hops, this has. According to Beer Advocate, it's also got quite a variety of hops as well: Herkules, Centennial, Warrior, Amarillo, Simcoe and Columbus hops (maybe more). Indeed, the title of this beer is a nod towards the International Bitterness Unit (IBU), a unit of measurement used to quantify the bitterness of beer, though I don't really know how many IBUs this has.
It pours a nice dark orange color with a finger of head and some lacing as I drink. The smell is complex, with fruity citrus, some pine and resin notes and maybe even a little caramel. The taste is very sweet with that hoppy bitterness kicking in about midway through the taste and following through in the finish. This beer actually reminds me a lot of Weyerbacher's Double Simcoe IPA (which makes a sort of sense, given the similar ABV and the use of Simcoe hops). Carbonation is a little low, but that leads to a smoother mouthfeel and a relatively easy drink for such a high ABV beer. It's a very complex beer, and some of that comes out even more as the beer warms. Excellent IPA, though perhaps not the best. A-
Beer Nerd Details: 9.75% ABV bottled (12 ounces). Drank out of a tulip glass on 4/29. Hops: Herkules, Centennial, Warrior, Amarillo, Simcoe and Columbus (and maybe more). ?? IBU's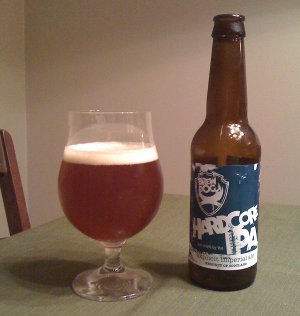 Brewdog Hardcore IPA – Pours a bit darker and maybe more amber than orange, it's still very similar. The nose is not quite as complex, but still quite solid, with a similar smell. Taste is not quite as sweet, and the bitterness is a little more front stage, but not by much. There's less complexity here, but it's still quite a good DIPA. It's perhaps suffering from the comparison to the Mikkeller beer, which is indeed quite similar. I'll give this a B+, but the difference between these two beers is perhaps less than the difference in ratings implies.
Beer Nerd Details: 9.2% ABV bottled (12 ounces). Drank out of a tulip glass on 4/29. Hops: Centennial, Columbus, and Simcoe. 150 IBU's
Apparently there exists a collaboration beer between Mikkeller and Brewdog where they basically mix batches of the two above beers, and then do some extra dry hopping. It's called I Hardcore You and if I can find a bottle, I'd like to give it a shot!
I also have a few of Mikkeller's single hop beers, where they basically use the same IPA recipe, substituted different types of hops for each batch. This will be a very interesting experience. From single-hopped beers I've had in the past, I can say that the amount of difference between those beers can be quite astounding.