Today is Star Wars day! And Beer Club! Due to schedules and various other factors, this month's beer club was a rather small gathering, but there were still some great beers to be had, as well as some wine and even homemade hard cider.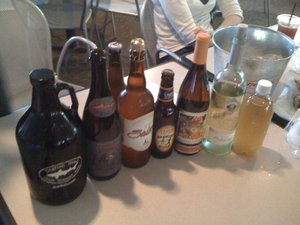 The theme this month was local brews, but as you can see from the picture, there were really only 4 beers on the docket this month (again, this was due to the fact that less people came and not because of any difficulty finding local beers). For reference, here's what we had:
And that just about covers it for the beer. I had a couple of the wines (including a Chaddsford Spiced Apple Wine that sounded and smelled great, but the taste was quite off for me – would have wanted some sort of carbonation there) and the hard cider, but none of those really stood out as much as the beers.
Despite the small session, good times were had by all that managed to attend, and I'd count it as yet another success. As usual, I'm already looking forward to the next meeting!