I didn't plan this, I swears! There just happened to be some interesting IPAs on tap last night: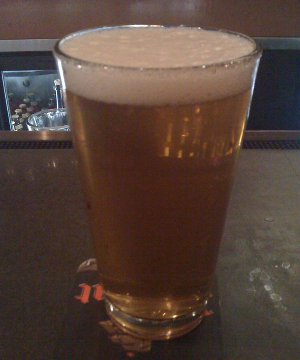 Russian River Blind Pig IPA – Apparently this bar had a keg of the vaunted Pliny the Elder on tap a couple days ago, but I missed out and had to settle for Russian River's standard IPA offering (Not that I mind too much, as this has been on my wants list for quite a while!) Pours a clear golden color with a couple fingers of bubbly white head. It's got a fantastic smell – citrus and floral hops, maybe a little pine. Taste matches the aroma well, with that nice bracing bitterness coming through prominently. Extremely well balanced. Mouthfeel is very smooth. A dangerously easy drink – I could drink these all night. In a lot of ways, it reminds me of Victory's Hop Devil. Maybe not the best IPA ever, but overall a fantastic beer. A-
Beer Nerd Details: 6.1% ABV on tap. Drank out of a shaker pint glass.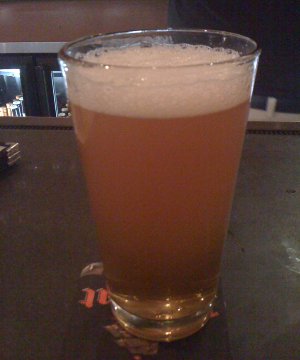 Victory Hop Wallop – Yes, I've reviewed this before, but this time… it was on Cask! I've really come to enjoy beers on cask, but I have to say, I don't think this was a good match. Perhaps I got this one too long after the cask had been tapped (beer in casks quickly degrade), but it was a real disappointment. Gone are all the fantastic grapefruit and orange aromas, gone is the tart citrus in the taste. Cask pours usually produce a smoother beer, but this was still pretty well carbonated, and it just didn't work right for me. What I was left with was an ordinary bitter and boozy IPA… which isn't that bad for what it is, but it's not as good as what I had in the bottle. Again, not sure what the source of this disconnect is – it could be the cask (or associated hardware), it could be the time since the cask was opened, or perhaps it could be that the Blind Pig just set too high a bar! I still love Hop Wallop in general, but I'd recommend it in the bottle rather than the cask (luckily, finding this on cask is probably unusual). On cask, I give it a B-, but in the bottle, it was an A-
Beer Nerd Details: 8.5% ABV on cask. Drank out of a shaker pint glass.
Someday, I will get my hands on Pliny the Elder (or, if I'm really lucky, Pliny the Younger), oh yes.