This past weekend's double feature consisted of a pair of rather depressing movies and, of course, two IPAs. After a pretty long stretch of IPA double features that highlighted the variety and distinctiveness of the style, I seem to be experiencing some bad luck with the last two. In the last IPA double feature, I had two great beers that were actually pretty similar. This post covers two middling DIPAs that are, again, pretty similar. Huh.
On the filmic side of things, I started with I Saw the Devil , a rather extreme Korean revenge flick (those Koreans really seem to enjoy vengeance!) Fans of Park Chan-wook's Vengance Trilogy will no doubt enjoy this one. The second film was Black Death, a dour British film set during the bubonic plague. It has its moments, but it's ultimately quite depressing and hard to recommend. I would recommend Director Christopher Smith's previous effort, Triangle, though. It's also depressing, but it features an odd elliptical plot that's quite intriguing (if a bit polarizing).
Depressing films and bitter beer, a match made in heaven?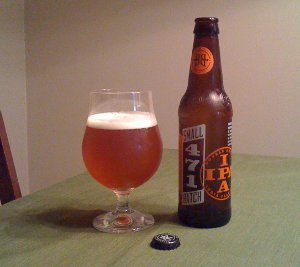 Breckenridge 471 IPA – Part of Breckenridge's "Small Batch" series, this is a rather straightforward double IPA. I'm not sure what the number 471 signifies, but if you haven't seen Breckenridge's fantastic mockery of big beer advertising, check it out. Interestingly, I've been seeing Heineken ads on TV lately that seem to be doing the same thing. Not sure which brewery got their first, but it's an interesting contrast in breweries and advertising. The Heineken ad is much more polished and pretty, but also somewhat cold, impersonal, and rather boring. Breckenridge's ads are, by contrast, low budget and static, but they amply demonstrate the personable and lovable nature of American craft brewing. And they're much funnier!
But enough about advertising. This beer pours a darkish amber gold color, with about a finger of head. Grassy hops in the nose, with just a hint of sweetness. Taste is surprisingly straightforward. It's not overly sweet or bitter, though both flavors are there. I'm not entirely sure I'd recognize this as a DIPA, though it does get a bit boozier as it warms up. Looking at the hops it's brewed with, I'm not sure why I didn't enjoy it more, but I got less citrus or pine than I would expect. It's a solid beer, with earthy hops and a nice medium to full body, but it's not something that's blowing the doors off the wall either. Whatever that means. B
Beer Nerd Details: 9.2% bottled (12 oz). Drank from a tulip glass on 5/20/11. Hops: Chinook, Centennial, Simcoe, Fuggles. IBUs: 70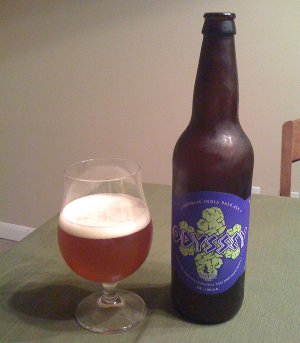 Sly Fox Odyssey – I didn't know this until now, but every year since 2004, Sly Fox has celebrated the IPA style with a year long series of single-hopped beers at their brewpub, culminating in an all day festival in December of each year. Every year the number and varieties of hops changes, but it's usually somewhere around 8-10 different hops. To coincide with the festival, they also launch a new beer made from all the hops used that year, called Odyssey. A double IPA with shitloads of hops.
It's a bit darker in color than the 471 – less amber and more brown. The nose is less sweet, but perhaps more hoppy. There's also a bready, almost Belgian aroma poking out, but it's very subtle. The taste is more intense and complex, but very similar. The body is a bit less full, but that makes it a bit more drinkable. Ultimately, I'm getting a very similar feeling with this beer – a solid brew, but not lighting my hair on fire either. B+
Beer Nerd Details: 8.4% bottled (22 oz). Drank from a tulip glass on 5/20/11. Hops: Cascade, Newport, Warrior, Northdown, Vanguard, Palisade, Simcoe, Nugget, Magnum, Challenger*. IBUs: 90
It's unclear how often the Odyssey recipe changes, but in any case, I'm probably more likely to revisit that one than the 471.
In terms of IPA double features, this surely won't be the last, and I can guarantee that the next one will feature more distinct varieties of the style. In fact, it may even be a triple feature!
* Again, it's a little unclear if they change the Odyssey recipe from year to year, but according to their website, it was first brewed in 2006, and so I listed the hops from that year.