So I've had these two beers for a while and I've been saving them for this weekend. I mean, how many Easter-themed beers are really out there? Of course, I had to pick probably the two least appropriate movies to watch whilst drinking.
First up was James Gunn's comic book spoof Super, which is basically a continuation of the filmic deconstruction of superheroes started a few years ago. As such, it has a lot of semi-derivative elements, but it sticks to its guns (or I should say, Gunns!) and never flinches at its target. It's extremely graphic and violent, and some of it is played for laughs, but there's at least one unforgivable moment in the film. One thing I will say is that there's going to be a lot of teenage nerds falling in love with Ellen Page because of her enthusiastic performance in this movie. The critical reception seems mixed, but I think I enjoyed it more than most. I wouldn't call it one of the year's best, but it's worth watching for superhero fans who can stomach gore.
The second film in my double feature was Hobo with a Shotgun. If Super represents a bit of a depraved outlook on life, Hobo makes it look like the Muppets. A few years ago, when Grindhouse was coming out, there was a contest for folks to create fake grindhouse-style trailers, and one of the winners was this fantastically titled Hobo With a Shotgun. Unfortunately what works in the short form of a trailer doesn't really extend well to a full-length feature. There are some interesting things about the film. Rutger Hauer is great as the hobo (look for an awesome monologue about a bear), the atmosphere is genuinely retro, it actually feels like a grindhouse movie (as opposed to Tarantino and Rodriguez's efforts), and the armored villains known as the Plague are entertaining, if a bit out of place. Ultimately the film doesn't really earn its bullshit. Like last year's Machete (another film built off of the popularity of a "fake" trailer), I'm not convinced that this film really should have been made. Again, devotees to the weird and disgusting might enjoy this, but it's a hard film to recommend.
In terms of beer, I was drinking some saisons. As a style, they're known for being spicy, crisp and refreshing – Spring or Summer beers. You could say that such beer would be inappropriate given the movies I was watching, and that's true, but perhaps a nicer way to put it was that I was contrasting the refreshing beer style with the depravity on screen. Yeah. That's the ticket.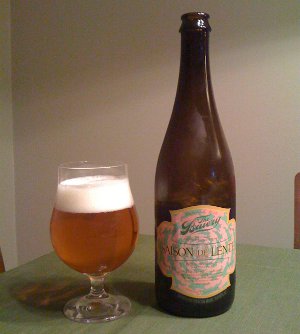 The Bruery Saison De Lente – I've only had two Bruery beers before, but both have been damn near perfect in execution. As such, I had high hopes for this, their Spring seasonal saison brewed with Brettanomyces to give it a wild kick. Pours a clear golden color with ample head that subsides quickly, leaving lots of lacing. Smell is dominated by Belgian yeast and a little of that Brett character. Taste starts sweet, gets a bit of a wild and zesty feeling in the middle that makes itself more prominent in the finish, which is a little dry as well. That zestiness is probably the Brett shining through, and it became more powerful as I reached the end of the bottle. High carbonation and a mildly harsh mouthfeel, typical of saisons. I wouldn't call it a favorite, but it's a refreshing change of pace and extremely well crafted. Just what I was looking for… and I'm greatly looking forward to exploring some more Bruery beers in the near future… B+
Beer Nerd Details: 6.5% ABV bottled (750ml capped). Drank out of a tulip glass.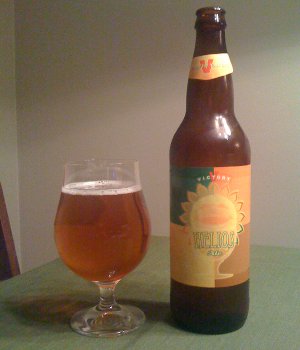 Victory Helios Ale – Helios was the Greek god of the sun – an appropriate name for a summer beer, eh? Another clear golden colored beer here, very little head in my pour. Smells very spicy, lots of pepper, with a hint of citrus and some typical Belgian yeast. Taste starts sweet, with some zingy bitterness coming out in the middle and finish (I wouldn't call it super hoppy, but it does have a distinctly bitter feel). The finish also has an interesting spicy character that lingers a bit. Mouthfeel is full of carbonation and a little harsh, about on par with the Bruery's effort. This one has a bit of that zestiness, but nowhere near as much as the Bruery beer. While it made a good first impression, I have to admit that I was less enamored with it as I reached the end of the bottle. The other thing I found a bit strange about this was that I'm pretty sure I had this on tap once, and that it had a much stronger lemony zest to it than I'm getting out of this bottle. It's been sitting in my fridge for a while, so perhaps its undergone some sort of change. I guess, then, I'll give it a provisional B-, but it's something I think i should revisit sometime.
Beer Nerd Details: 7.5% ABV bottled (750ml capped). Drank out of a tulip glass.