Given my shameless love of Belgian-style beer, I'm surprised that this is the first Lost Abbey beer I've ever had. They're a West Coast brewery, but their stuff is still somewhat available out here, I've just never picked up anything from them. Until now! I didn't actually know much about the brewery, but I know I like the Bière de Garde style of beer (despite not having really drank many examples), so I picked this up. The style name basically means "beer worth keeping" and such beers were historically brewed in farmhouses during the winter and spring for consumption in the summertime (i.e. they "kept" it until summertime because the yeast used for these beers didn't work well in the heat of summer). I find these to be very similar to saisons in a lot of ways (though, as always, the boundaries between styles are somewhat fuzzy).
Of course, the Lost Abbey claims that this beer demonstrates their commitment to "brewing beers to no particular style", but I don't really know who they're kidding with that. Styles are vague enough as it is, and this is pretty clearly a Bière de Garde.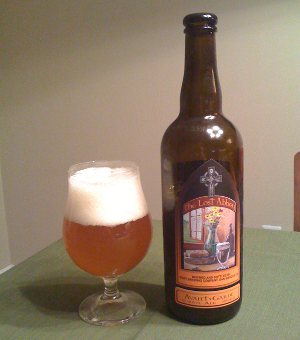 Lost Abbey Avant Garde – Pours a very pretty, hazy yellow/orange color with an ample head and some lacing as I drink. The head seemed to have larger than normal bubbles. Smells fruity and spicy, with that distinctive Belgian yeast coming through clearly. Taste is sweet and spicy with some fruity citrus notes to start, but a dry bitterness slowly establishes itself in the finish. Well carbonated and reasonably refreshing, it's an easy drink. Not particularly a world-beater, but a quality brew and a nice first impression for me. B+
Beer Nerd Details: 7% ABV bottled (750 ml caged and corked). Drank out of a tulip glass on 4/9/11.
Again, a nice first impression of Lost Abbey for me. Looking forward to trying some more of their beers at some point, though I'm not really sure where to go next. Any recommendations?