When I was 12, I played D&D as a Gnome Illusionist named Ralph. I'm glad I got that off my chest.
Speaking of Gnomes, I drank some La Chouffe recently. You may recognize the bottles as the ones with the Gnomes on them. If they really are Gnomes. They are variously referred to as Gnomes, Dwarves, Goblins and/or Elves. That last one seems the most unusual to me, but the La Chouffe homepage even calls them elves, so I don't really know what's going on there. Apparently the term "Chouffe" is Walloon for "gnome", though according to Wikipedia, only 600k people actually speak the language, so who knows how it actually translates.
There's apparently quite a backstory to La Chouffe, which is interesting since the Belgian brewery (actually called Achouffe) was founded way back in… 1982? I'm so used to longstanding (by which, I mean, like hundreds or thousands of years) Belgian breweries that something that new seems odd.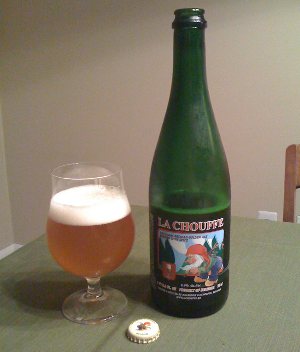 Pours a cloudy light brown/gold color with a couple fingers of head and some lacing as I drink. The smell is very spicy (can't quite place the exact aroma here, but it's distinct, perhaps coriander) and features lots of the usual Belgian yeast aromas. Taste is sweet and spicy (again, can't place the exact spices here and they seem more subtle in the taste than in the nose), with maybe a hint of citrus. Some people mention a hoppy character in their reviews, but it's not something I found very prominent. There may be a little in the way of a dry bitterness in the finish, but nothing out of the ordinary. Lots of carbonation, but despite the spiciness and decent alcohol, it goes down pretty easy. Overall, a very good beer, something I could drink a lot more of (and probably will!) A-
Beer Nerd Details: 8% ABV bottled (750 ml, capped). Drank from a tulip glass on 4/17/11.
Interestingly, Achouffe and Ommegang recently announced a collaboration. Not super surprising, since they're both owned by Duvel, but still, I'm looking forward to the awesomely named Gnomegang. Stay tuned for that one, as I recently procured a bottle.