A new style of beer has been making the rounds in the past few years. Aggressively hopped and bitter like an IPA, but utilizing the dark, roasted malts and sweetness of a stout, this type of beer was virtually unseen a few years ago. However, thanks to crazy American hop-heads and a free-wheeling, innovative craft beer culture, this new style has been spreading like wildfire. Of course, I'm being a bit cagey here by calling it a "new" style. New-Englanders claim the beer originated in a small Vermont brew pub in the early 1990s. Beer history nerds, of course, point to centuries old recipes that resemble the style, claiming that it's nothing new. Some of the early brewers of the style labeled their beer as a Porter, lending creedance to the history nerds. Enter the American Pacific Northwest, who have cleverly inserted their way into the controversy by coining a self-serving name for the style: Cascadian Dark Ale (named after the American Cascade mountain range, where many American hops are grown, including the popular (and, uh, obvious) Cascade hops).
Of course, naming the style is a controversy in itself. Cascadian Dark Ale has a wonderful and vaguely evocative feel to it, but the style has also been called Black IPA, India Dark Ale, American Dark Ale, and probably a dozen other variants. They all have their problems (for instance, Black IPA makes no sense because it unpacks to "Black India Pale Ale", which is just silly – the term "India" implies a history and geography that isn't relevant; "black" and "pale" are descriptors of color, and clearly conflict), so no one name has emerged victorious. Andy Crouch wrote about this semi-recently (and of course, his history of the style is better than mine) and proposed a poll with a dozen different options, including his own inspired suggestion of Noonan Black Ale (named after Greg Noonan, owner of the aforementioned Vermont brew pub). As of right now, Black IPA is winning the poll, and that's what RateBeer uses. Beer Advocate uses American Black Ale, which is similar to the Brewers Association's recently changed designation of American-Style Black Ale (changed from American-Style India Black Ale).
So yeah, more fuel for the internet flames of semantic debate. As a fan of "genre" films, amongst other geeky pursuits featuring detailed nomenclature, I can assure you such arguments are not unique to the world of beer. So, as much as I'd love to continue beating that dead horse, I think it might be nice to actually, you know, drink some of this stuff. Enter Stone's Sublimely Self-Righteous Ale. Originally brewed as a limited Anniversary batch (a good contrast to Victory's recent Headwaters anniversary ale), it proved popular enough that Stone now makes it available year-round.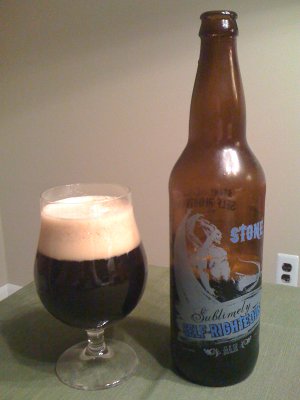 Now, I really enjoy a good IPA (or DIPA) and I've recently been acquiring an appreciation of stouts, but sometimes these sorts of style mixtures rub me the wrong way. Instead of seeing it as the best of both worlds, I'll often end up craving one style or the other, without ever actually enjoying what's in front of me. However, in this case, I think the mixture actually works well, even if it's not exactly my favorite style of beer. Pours a very dark brown, almost black color, with a fluffy tan head. Smells fantastic. Floral, piney hops dominate the nose. Taste starts with a sweet but earthy bitterness sets in quickly, followed by some additional roasted malt bitterness in the finish. The roasted flavors linger a bit in the aftertaste as well, and they become a little more prominent (in both the nose and the taste) as the beer warms up. Texture is surprisingly smooth and the beer is quite drinkable. Very well crafted and, more importantly (given my feelings on hybrids above), it's extremely well balanced. Not being overly familiar with the style or the process of brewing, I imagine it would be difficult to pack in the complexity without letting any of the potent ingredients overwhelm the taste or the palate. I will give it a B+, though I suppose I could easily bump it up to an A- if I were to become more enamored with the style (which could very well happen). As it is, I enjoyed it quite a bit.
Beer Nerd Details: 8.7% ABV bottled (22 oz bomber). Drank out of a tulip glass. Chinook, Simcoe & Amarillo hops, 90 IBUs. Drank on 3/11/11 (yeah, I'm behind on reviews again, wanna fight about it?)
The Stone example seems to be among the best ranked beers in the style, of course, but that doesn't mean I'm not willing to try more. Who knows, I might grow into it in the way that I'm growing into stouts (and perhaps my newly acquired taste for stouts is what is partially holding me back here… if you call B+ holding back!)
Update: Oh crap, I forgot to enter a style in my blog categorization. I was hoping to avoid that. I'll go with American Black Ale, since that's what Beer Advocate uses (and it's also similar to the Brewers Assocation) and I'm not entirely down with Black IPA or Cascadian Dark Ale.