Today was beer club! Due to various factors, the variety of beer was somewhat limited this month, but there was still plenty of merriment to be had, and when we got to the BYOB restaurant, we saw this sign out front: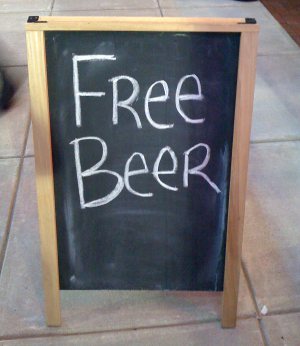 Certainly a good omen! Apparently the restaurant had some Lager, but since they had no liquor license, they were just giving it away for free. Score! There was no real theme for the month, but we did end up with about 7 different beers (not including the free Yuengling) as well as some wine, cider and homemade Limoncello (unpictured, but it was very sweet and incredibly alcoholic!) Here's a quick picture of what we had: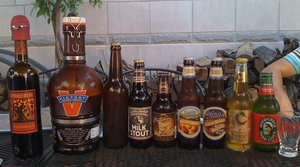 (Click for bigger image)
As usual, tasting conditions were less than ideal, so take the following with a grain of salt (beers listed below are basically in order from left to right in the picture, not necessarily the order in which we drank them):
Victory Sunrise Weissbier – Hey, I've actually reviewed this before! A friend had been at the brewery lately, so they had picked up a growler of the stuff. It struck me as being somewhat better than the last time I had it, but I'll leave it at a B-. Solid hefeweizen style beer, but not particularly special either.
My Homebrewed Saison – I know I mentioned this last time, but this is definitely my best homebrew yet, and the first that I think is truly good. Sweet, spicy, well carbonated and easy to drink, it came out really well. Indeed, I'd probably give this a B+ or maybe even an A-. I should really review my other homebrews, which I'd probably rate much lower.
Lancaster Milk Stout – Yep, I just reviewed this one too. I think the coffee flavors were more prominent this time around, but otherwise it's pretty much the same. B+
Founders Dirty Bastard – Yet another beer I've reviewed before. Indeed, I've had a few of this since I originally reviewed it, and I do believe I like it better now than I did that first time. I had originally noted that there wasn't any fruitiness in the flavor, but in the recent tastings, I've definitely gotten a really nice fruity quality out of this. Tonight I could also really taste the alcohol as well. It certainly wasn't unpleasant, but I think it might have been a reflection of the other relatively low ABV beers of the night. B+
Samuel Adams Rustic Saison – A very light example of the style, though still very flavorful and smooth (looking at it now, I'm surprised it's only 4.35% ABV), featuring a nice twang in the nose and taste that I couldn't place, but which someone had mentioned might be honey. It's not a beer that will melt your face or anything, but it's definitely a quality brew and well worth a drink. At 4.35%, it would probably be a decent session beer as well. B
Samuel Adams East-West Kölsch – Not a style that typically fares well here at Kaedrin (or at beer club, for that matter), but this one was apparently brewed with Jasmine, and that addition really does make this a much more interesting beer than it would have otherwise been. Again, not setting the world on fire, but a quality brew that's worth trying. B-
Cave Creek Chili Beer – When I first saw Aaron's awesome video review of this beer, I thought he had to be exaggerating, but that first swig of this beer gave me that same, out-of-breath, it's so spicy feeling. It was a really weird experience too – the spiciness seems to really hit at the back of your throat and tongue, but the rest of my mouth/tongue didn't really pick anything up. And that spicy hot aftertaste didn't go away either (I'm glad we opened this last). It was really, truly horrible. When you open the beer, it almost smells like you've opened one of those pepper bottles with the brine in it – overpowering chili pepper aromas and not much else. I can't imagine drinking an entire bottle, and indeed, I could only really take a few sips of it. Unanimously the worst beer club beer ever. In some ways, I'm glad I got to try this, as it certainly is an experience. In another way, I really hope I don't burp this up later tonight. F
Despite the fact that I'd had/reviewed half these beers before, I think it was another successful outing for the beer club. It's looking like we might get a bonus beer club meet at The Whip in addition to our normal meetup next month. Score!