In the swishy world of beer trading, there are many ways to play. There's the obvious 1 on 1 trades, I've already covered the BIF (kinda like Secret Santa, but with beer and without the holidays), and now we come to the LIF, which stands for Lottery It Forward. The idea is that someone who has had some good fortune will pay it forward by giving away a beer or six from their cellar. Most LIFs consist of a simple challenge (the first person to answer my obscure question wins!) or straightforward lottery, but lately, there's been a lot of charity LIFs where someone will keep track of donations, then enter you into a lottery drawing based on how much you donate (usually 1 entry for every $10 donated).
Believe it or not, I've actually won two of these. The first was for a charity, and my prize was… a Tired Hands growler! Because I visit the brewery practically every week, the organizer was supremely apologetic and since all the other winners had been notified, I just asked him to pick a new name (gotta share that Tired Hands love). It seems karma saw fit to make me a winner in another LIF, so here I am with a box of 6 pretty great beers. Lucky (and grateful), I am.
This one comes from Colorado, which has quite the booze scene. Not just craft beery type stuff either. For this beer, Great Divide took one of their stable beers (perhaps amped up a bit), an old ale style, and aged it in Stranahan's Colorado Whiskey barrels. Near as I can tell, Stranahan's is a unique little "microdistillery". Their mash bill is comprised of four different types of barley, so it's not Bourbon. Indeed, the mash bill seems kinda like Scotch, but it's all aged in new American oak and it's obviously not a single malt either. So yeah, unique. And apparently fun. Their labels all have a personal note from the person bottling it, usually a song or quote or something like that – this guy got a bottle that says "Listening to Xmas Carols". That's a nice touch. So let's see how these barrels treated this beer, eh?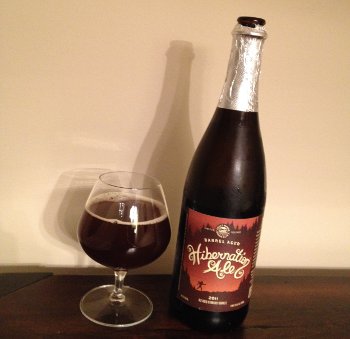 Great Divide Barrel Aged Hibernation Ale – Pours a deep, dark brown color with half a finger of quickly fading off white head. Smells strongly of rich, fruity booze, lots of caramel with a strong malt backbone, and a little bit of that whisky barrel character. Taste has plenty of caramel and some of that fruity malt and booze, with the whisky barrel character making itself known, but not super assertively, towards the finish. Mouthfeel is surprisingly thin for such a big beer. Medium bodied, light carbonation (but nothing inappropriate), with a leading richness that quickly thins out (it's not watery or anything, but it's a lot thinner than you'd expect a 12.4% ABV monster to be). Overall, this is a really solid beer, but lacking in the richness and whiskey character that I was expecting. Is this a function of its age? Excellent question, I have no idea! I'm really happy I got to try this though, and despite my expectations of a richer brew, it is damn good… so I'll give it a B+ and that will be that.
Beer Nerd Details: 12.4% ABV bottled (750 ml capped). Drank out of a snifter on 12/6/13. Vintage: 2011. Bottle Number: 0356.
Quite a nice one, and I'm really looking forward to the rest of my box, which includes some obscure Bruery stuff and a couple of those .rar Crooked Stave releases. Score. And this beer makes me want to seek out some more Great Divide, a brewery I haven't had much of lately, though I guess I've had a couple Yeti variants over the past year or so… but can you really have enough Yeti? I think not.