Barrell Bourbon is a NDP that's nevertheless gained a following amongst whiskey dorks. It's also got an extra "L" on the end of their name there, which means… well, owner Joe Beatrice has declined to explain. My guess? It's a branding gambit. Searching for "Barrel Bourbon" will produce millions of irrelevant results, whilst "Barrell" (with the extra "l") will get you the right stuff.
We've covered NDP (non-distiller producer) before, so I won't harp on it, but it is the sort of thing that normally arouses suspicion in whiskey nerds. That being said, Barrell puts a few interesting spins on their philosophy. First, they're all bottled at cask strength, which is like catnip to whiskey dorks. Second, each batch is unique and will never be seen again. Exclusivity and rarity is always a draw. Third, while the sourcing is usually vague, most other details about the bourbon are often available (i.e. state of origin, mashbill, age statements, etc…) Fourth, they appear to be doing a good job of picking their barrels, so while they may not be as transparent as everyone would like, they have cultivated a reputation for quality.
What we have here is Batch 009, a 13 year old bourbon sourced from Tennessee with a mashbill of 75% corn, 18% rye, 7% malted barley. Again, Barrell does not specify the exact provenance, but reading around, I see that well-aged bourbon sourced from Tennessee is usually code for "George Dickel", so there is that. Let's dive in: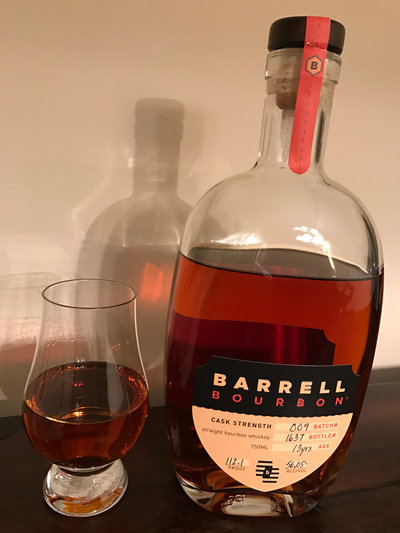 Barrell Bourbon Batch 009 – Pours a clear golden orange color with big legs. Smells quite oaky, lots of wood, vanilla, coconut, caramel, rye spice, something a little bready too. Taste has a nice rich caramel and molasses sort of thing going on, a little spicebox in the middle and finish. Oaky without being overly so, which is certainly in my wheelhouse. Mouthfeel is rich and coating, lots of alcohol heat, but in a pleasant, mellow way, with a finish that lasts a while. Overall, this is fabulous stuff, complex and balanced, great. Compares favorably to my favorite bourbons. A-
Whiskey Nerd Details: 112.10 proof, 56.05% ABV bottled (750 ml). Drank out of a glencairn glass on 3/14/16. Aged: 13 years. Vintage: 2016. Mash bill: 75% corn, 18% rye, 7% malted barley.
Beer Nerd Musings: I've already talked about the NDP parallels with contract brewing and gypsy brewers. Barrell's approach seems more reminiscent of Scotch's independent bottlers (except, of course, for the lack of transparency around the original distillery). The notion of each batch being unique (and not just from a "each single barrel is unique" sort of situation) is interesting and certainly speaks to the explosion of craft beer offerings. I mean, it's not Tired Hands with their ~900 different named beers in 3 years, but there's something to be said for the experience of drinking something you know you'll probably never get again. I have not ever had a beer aged in a George Dickel barrel, but they do exist, even if they don't seem particularly common. There are some beers that only specify being aged in a Tennessee whiskey barrel, which I suppose could also mean Dickel. If this bourbon is any indication, I think these barrels would work pretty well with beer (though this is perhaps too good to waste on homebrew!)
Fellow Travelers: As mentioned above, these bourbons have gained something of a following, so if you don't feel like taking a beer nerd's word for it, here's some other folks who've reviewed it:
signde drinks gives it a B/B+ and calls it "this is the best by far" of Barrell batches he's had…
The Bourbon Buddy gives it a 90-91 (A-) and also mentions that it's the best Barrell batch he's had…
So yes, I'm going to be keeping my eyes peeled for more Barrell batches, as this is a new favorite. I've got two more bourbons in the pipeline, and who knows what I'll find in the meantime. Up next this week, though, we move to wine. I might even have a beer review or two, even during my current beer hiatus. Or quasi-hiatus, as it were. Stay tuned!