As a probable whisky dilettante and professed novelty whore, I don't have what you'd call a "house bourbon", that sort of thing that you always have on hand in case you want a belt of the ol' comfort. But if I did? It would probably be the standard Elijah Craig offering. It's lost its age statement (it formerly was a 12 years old), but it's still a pretty great, approachable, affordable, highly available bourbon that hits all the right notes that I'd want in a bourbon.
So naturally, when I finally spied a bottle of the cask-strength version of same, I jumped on the opportunity. As I understand it, this is one of the more readily available of the highly-regarded cask-strength offerings, but in PA, it was very hard to come by (there have been very limited releases and I think even a lottery at one point), so naturally I wound up getting it in MD during one of my periodic pilgrimages to State Line Liquors.
The idea is very high proof (not quite haz-mat levels of Stagg, though some batches have gotten there) and still age stated at 12 years, it's basically regular Elijah Craig, only more so. This particular batch is apparently one of the lower proof (lowest?), but then, it's still pretty high for me… Let's dive in: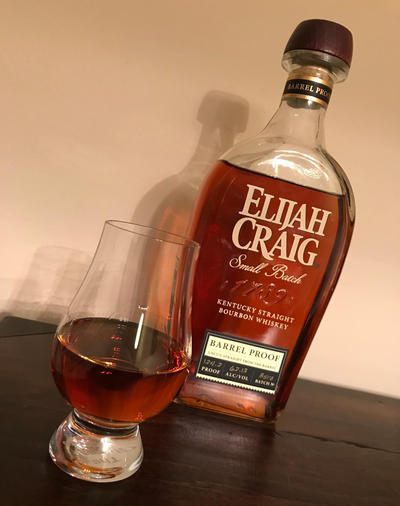 Elijah Craig Barrel Proof – Pours a deep, dark coppery orange color with plenty of legs. Smells great, lots of oak, some caramel, spicebox, cinnamon, dark fruit, vanilla. Taste follows the nose, lots of oak, moar spicebox, cinnamon and the like, a little dark fruit, more oak, and vanilla. Like the regular Elijah Craig, it's very oaky, but this time, it feels more balanced with the rest, which is interesting. Mouthfeel is rich, full bodied, and quite hot. I mean, yeah, keep in mind my baby beer palate, and this isn't the hottest thing I've drank, but it's clearly there. Overall, a nice improvement over the base offering, and one of the better barrel strength offerings I've had (noticeably better than the younger offerings, like Booker's or Stagg Jr.). A-
Whiskey Nerd Details: 124.2 Proof, 62.1% ABV bottled. Drank out of a glencairn glass on 3/24/18. Batch No. B517
Beer Nerd Musings: As previously mentioned, EC12 barrels seem to be prized amongst beer brewers. It historically played a role in BCBS (though their barrel program is so large at this point that who knows anymore). Interestingly, one of the most reliable EC12 barrel aged beers, FiftyFifty's purple waxed Eclipse variant, seemed to be rarer in the most recent release. I'm unsure if that's due to lack of barrels, some result of the loss of age statement, or probably most likely, just FiftyFifty's desire to shake things up a bit (this year's lineup featured a lot of adjuncts like maple, coffee, and vanilla, as well as more diverse barrels from apple brandy, rye, and even mead). Whatever the case, if a beer specifies that it's aged in Elijah Craig barrels, it's usually a good indication. The barrel proof offering is probably too expensive to use for homebrew (something the standard expression would be great for), but will make a great addition to my infinity bottle someday (this… is a topic for another post, though).
Fellow Travelers: Obviously lots of other folks have tried various batches of this out:
Signe Drinks has reviewed the same batch I have, and puts it squarely in the middle tier of Elijah Craig Cask Strength releases. Not the best, but not the worst, he sez. Josh Peters has had many different batches as well (though I don't think this specific one was in his list). The sadly defunct Sku also reviewed early batches and came away impressed. Finally, I suppose I should mention fellow beer dork DDB, who also seems to enjoy these offerings.
This more or less completes my beer hibernation for the year. Actual beer posts will be returning shortly, though I expect the pace of posting here to continue its slow, inexorable decline.