Brewed with iron nails that are allowed sufficient time, oxygen, and water to develop the formation of surface rust, adding an earthy, metallic crunch to an otherwise standard stout. Wait, no, that can't be right. I see there's also a cocktail known as The Rusty Nail that's a mix of Drambuie and Scotch whisky. I'm not especially familiar with it, but Drambuie itself is just Scotch whisky with Scottish honey and added spices and herbs that lend a sweeter, more botanical flavor to the Cocktail. From this, you would expect a beer by the same name to maybe use a Scotch barrel and incorporate similar ingredients and, well, sorta. Fremont opts for the more convenient Bourbon barrels, and just adds licorice and cinnamon bark to the party (which, to be fair, are commonly used descriptors of Drambuie). Pretty sure no rusty iron is added. The imperial oatmeal stout base has a touch of smoked malt too, and the whole thing is aged in 8-12 year old bourbon barrels for 15 months. Here at Kaedrin, we hold Fremont's barrel program in high esteem, so it's no surprise that while this probably doesn't taste much like the cocktail, it's still really good: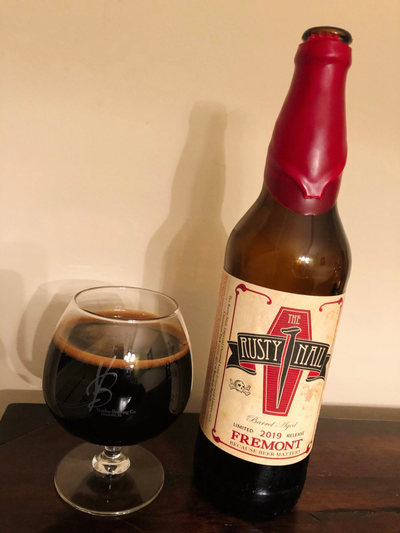 Fremont The Rusty Nail – Pours an inky black color with but a cap of light brown head that quickly resolves into a ring around the edge of the glass. Smells prominently of cinnamon, with some underlying caramel, bourbon, oak, and vanilla. Maybe even some of that licorice if I do the olfactory equivalent of squinting. Taste starts off with a more familiar BBA stout base, rich caramel, hint of roast (or maybe smoke from the smoked malt?), but then that cinnamon kicks in, followed by more barrel character, oak, vanilla, and a boozy bourbon bite in the finish. I'm not a particularly big licorice fan, so it's probably overwhelmed by the other elements of this beer, which means I don't really detect it much (or perhaps it's just adding an indistinct complexity). Mouthfeel is full bodied, rich, moderately carbonated, broken up a bit by the cinnamon, which is strong but not completely overpowering. Overall, yup, a fantastic little beer. B+ or A-
Beer Nerd Details: 13.9% ABV bottled (22 ounce capped and waxed). Drank out of a snifter glass on 8/10/19. Vintage: 2019.
I recently also got a small taste of Brew 3000, Fremont's anniversary barleywine, which was quite nice. Alas, a one ounce taster at a beer fest does not make for a good overview of the beer. Perhaps someday I'll manage to acquire a bottle (perhaps Brew 4000?) In the meantime, I seem to have developed quite a backlog of reviews, which I'll work my way through soon enough…