The label sez: "We continue on, forward, like phantom people, towards subtle dawn." I don't know what that means, and the ghost infamously never shares its secrets, so we'll just have to let that be, I guess.
The beer itself was originally brewed in Belgium at Fantôme, with Dany and Jester King brewer Garrett Crowell collaborating on the recipe. Speaking of which, unlike most Tômes, we know a little more about the recipe here. It's made with dark candi syrup, truffle honey, coriander, and black peppercorns. After the initial batch in Belgium, Jester King made a batch back at their own brewery and subjected it to extended fermentation and partial barrel aging (and using their distinctive well water and a melange of native, mixed-culture yeast and bacterial beasties.) The name Fantôme Del Rey roughly translates to Ghost of the King, which is actually pretty evocative. But how's the beer?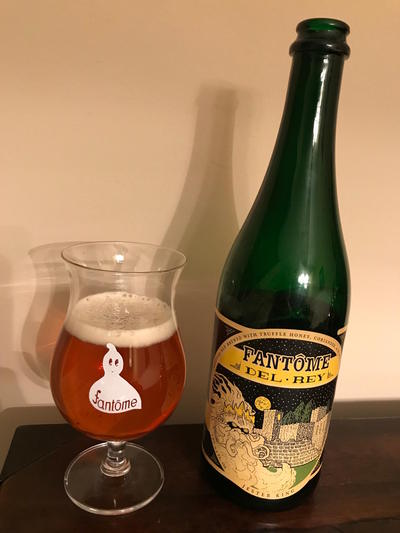 Jester King and Fantôme Del Rey (Texas Version) – Pours a striking clear golden orange color with a solid finger of dense white head that has great retention and leaves some lacing as I drink. Smells very funky, lots of dusty, musty Belgian funk going on, a little earthy, some unidentifiable spices, and an underlying fruitiness peeking through. Taste is candy sweet up front, a little sticky fruit, hints of spice and earthy funk, finishing with a whisper of tartness. Mouthfeel is medium bodied, a little low on the carbonation (but there's plenty there), some stickiness, and only a hint of acidity. A little more carbonation would have done this well. Overall, this is a very nice beer, atypical for Fantôme, which I guess makes sense since this is the Texas version. Well worth checking out. B+
Beer Nerd Details: 8.8% ABV bottled (750 ml capped and corked). Drank out of a tulip glass on 4/8/18. Blend #1 – 03.22.16.
Always down for another Tôme, and Jester King is certainly a brewery I should seek out more often. Many thanks to fellow BeerNERD Gary for procuring this bottle for me in his many travels.