So this annual sorty into Vermont to secure beer has become a hallowed tradition here at Kaedrin, and is thus well tread ground at this point. Every year, there are some minor tweaks, but the general shape of the invasion has cohered into a firm(ish) state: Start at Warren Store, hit CBC in Waterbury, new Alchemist visitor's center, Lost Nation for lunch, Hill Farmstead, and now Foam, all before heading back to my vacation spot in upstate NY.
It's a fun little day trip, and I'm happy I get to do it, but I'll try not to bore you with repetition, so enjoy some brewery pictures, hauls, brewery pictures, hauls, brewery pictures, hauls, and a few quickie reviews (that are light on tasting notes and heavy on ruminations, so less skippable than usual, heh).
A wide shot of the new Alchemist site, it's purty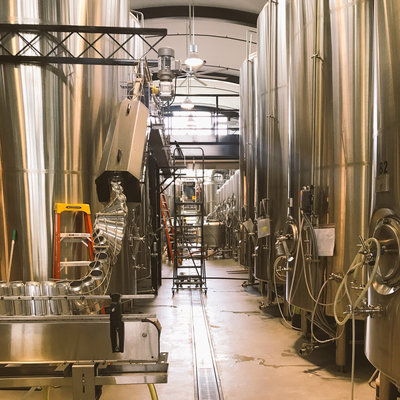 Some brewery equipment at the Alchemist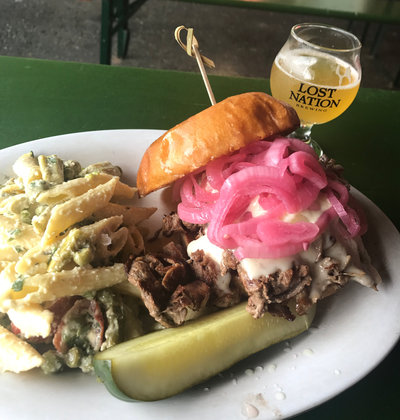 Lunch at Lost Nation, some sort of smoked beef sandwich with pickled onions on top, glorious as always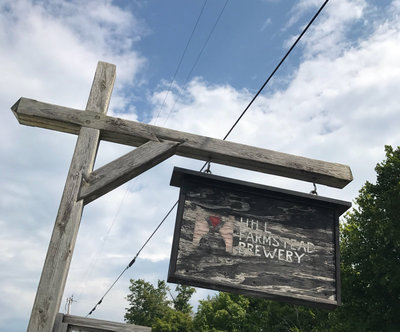 Obligatory Hill Farmstead sign that I post every year because I like it and you should too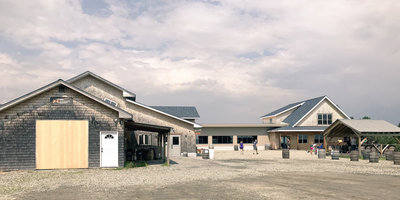 A wide shot of the Hill Farmstead compound, which kinda makes it sound like a cult and, um, that's not too far off for a lot of visitors (sadly not excluding myself)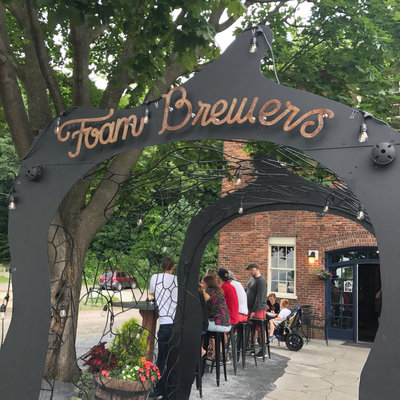 The entrance to Foam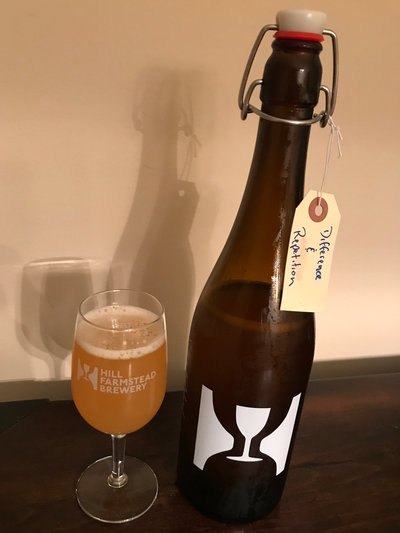 Hill Farmstead Difference & Repetition – First things first, this is a perfect name to describe the never-ending succession of IPAs that everyone offers these days. To outsiders, this must seem ludicrous. When I got back from Vermont, my brother asked what the difference was between all these IPAs and it's like, ugh, he doesn't want a lecture on yeasts and hop terroir and it's funny, because these mostly taste the same to him. Even to a grizzled veteran, drowning in IPAs can lead to a sorta palate fatigue. You can see differences, but it all starts to feel samey after a while. Or… different but repetitive, if you will. Anyway, this orangish yellow IPA is brewed with Simcoe, Amarillo, & Galaxy hops (just a citra away from my own Crom Approved homebrew) and smells and tastes fabulous, ripe mangoes, citrus, a hint of dankness, with a well balanced, light bitterness towards the finish. Easy going and quaffable. Overall, yeah, no crap, stop the presses, this Hill Farmstead IPA is great. A-
Beer Nerd Details: 6% ABV growlered (750 ml swing top). Drank out of a flute glass on 8/5/17. Growler filled 8/3/17.
Foam Experimental Jet Set – Named after a Sonic Youth album (all of Foam's names appear to be indie-rock references), I don't really know much about it. At first, I assumed it used experimental hops, and maybe that is indeed why they referenced this album, but who knows, the details of the recipe aren't readily available. I was quite impressed with Foam during last year's Operation, and loved their Built to Spill (I snagged another growler of that this year for a friend), so I was excited to get another taste of their wares. It turns out that this is one of the murkier, more turbid entries in the NEIPA style (cleaning the growler revealed lots of sediment gunk in the bottom of the bottle, which seems pretty rare for a growler), but it's pretty darned tasty. It looks like milky orange juice, smells of sweet, juicy citrus hops with a taste that follows the nose. The mouthfeel is a bit chewy and sticky, with some booziness too. Overall, an interesting NEDIPA, a bit boozy for my tastes (I tend to prefer my DIPAs in the 8%ish range), but worth checking out. B+
Beer Nerd Details: 9.27% ABV growlered (750 ml swing top). Drank out of a flute glass on 8/5/17. Growler filled 8/3/17.
Hill Farmstead Dharma Bum – An all Simcoe IPA, this one takes me back. Simcoe was, perhaps, one of the first hops I kinda grew to recognize and differentiate. It's always been a favorite for my homebrewing (my first homebrewed IPA was single-hop Simcoe and I still always use it for bittering, at least, when making an IPA). It's got a nice citrus and pine character that isn't entirely overwhelmed by the juicy flavors and aromas imparted by whatever yeast strain HF uses. It makes for an interesting, almost transitional NEIPA beer. Really nice Simcoe character imparted here, and just enough NEIPA juiciness to keep tings interesting. A-
Beer Nerd Details: 6% ABV growlered (750 ml swing top). Drank out of a charente glass on 8/6/17. Growler filled 8/3/17.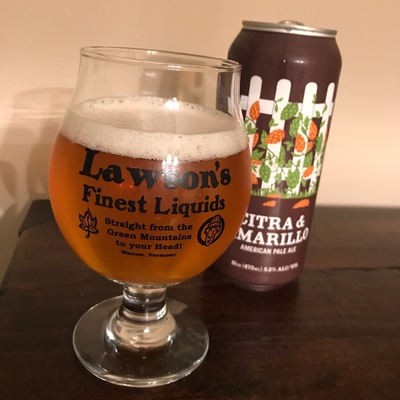 Simple Roots Citra And Amarillo – When I was walking into the Warren Store (my usual first stop of Operation Cheddar, usually just to get some Lawson's, but I always end up taking a flier on something I've never heard of), I noticed someone carrying two cases of beer from their car into the cooler. I asked, and it turned out it was these Simple Roots cans. After Simcoe, Citra and Amarillo have also been a mainstay in my homebrewed IPAs, and are definitely favorites. Pours a, a, a… is that clear? What the hell guys? Clear golden yellow with finger of white head that leaves lacing. Floral, citrusy hops, a little cereal grain in the background. Light bodied and crisp, well carbonated and quaffable. Overall, do we call these things throwbacks now? Clear, almost west-coast inspired APA? It's nice. B
Beer Nerd Details: 5.1% ABV canned (16 ounce pounder). Drank out of a tulip glass on 8/12/17.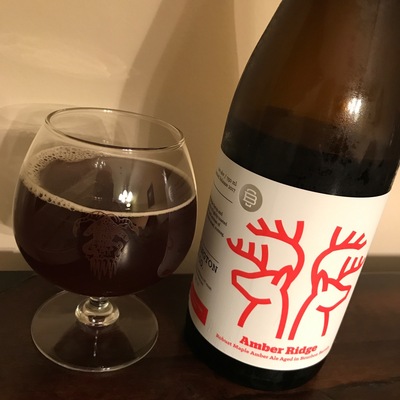 Burlington Amber Ridge 2017 – A "robust" maple amber ale aged in bourbon barrels, my kinda stuff. This beer changes from year to year (last year was a brown ale base), but the idea remains the same. Presumably named after Amber Ridge Maple farm and the maple syrup they provided, it was also aged in Stonecutter Spirits whiskey barrels (of which, I don't know much about.). The result is a pretty darned good take on the style. Nice amber color with off white head, good barrel character, maple, caramel, oak, and vanilla, relatively light and nimble for its 12% ABV (I mean, still medium bodied, but something like this is usually much heavier), I liked this a lot. B+ or A-
Beer Nerd Details: 12% ABV bottled (750 ml). Drank out of a snifter on 8/12/17. Vintage: Limited Release 2017.
Moar reviews to come, so stay tuned. I'll leave you with some haul pics because that's always fun too: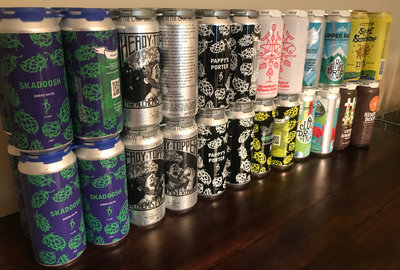 Can Haul: Alchemist Skadoosh IX, Heady Topper, Pappy's Porter, and Beelzebub. Burlington Strawberry Whale Cake. Upper Pass First Drop and Cloud Drop. Lawson's Finest Liquids Sip of Sunshine. Simple Roots Citra and Amarillo (see above).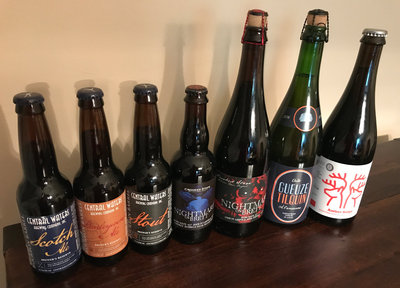 Miscellaneous Bottle Haul: Central Waters BBA Scotch Ale, BBA Barleywine, BBA Stout. Crooked Stave Nightmare on Brett with Blueberries and regular ol Nightmare on Brett. Tilquin Gueuze. Burlington Amber Ridge (see above)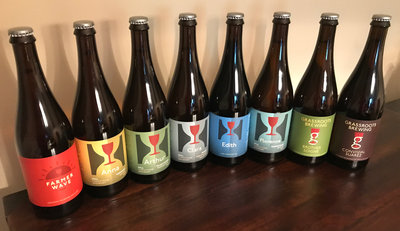 Hill Farmstead Bottles Haul: Farmer Wave, Anna, Arthur, Clara, Edith, Florence, Brother Soigné, and Convivial Suaréz.
And if you think that's a lot, well, I didn't actually capture, *ahem*, all of the bottles and cans I bought. I know that's the cool kid thing to do, but that was, like, way too much work and you don't need to see a hundred bottles and cans splayed all over your monitor. Anywho, this basically concludes Operation Cheddar VI: Night of the Living Cheddar. More to come in terms of actual reviews, so stick around…