I usually try not to get too worked up about things like a brewery's ownership change or brewer switchups, but it's hard not to be concerned when it's a brewery you really like. At least Logsdon's buyout wasn't coming from a huge multi-national corporation like the great satan, AB Inbev, but it apparently did lead some to some weird PR and distribution mishaps that might shake a beer dork's confidence. That being said, things seem to have calmed down. Their brewer corps has solidified and they seem to have a decent focus on independence and innovation. They've even managed to start a spontaneous fermentation program and have been expanding their barrel aging efforts.
ZuurPruim (literal translation: sourpuss!) is a barrel-aged tart plum ale that first saw release in December of last year. Aged in Cabernet Sauvignon barrels with 100 pounds of plums per barrel, the initial batch was split into two releases, each of which received a small portion of that spontaneously fermented beer for added complexity. In short, Logsdon appears to be back on track.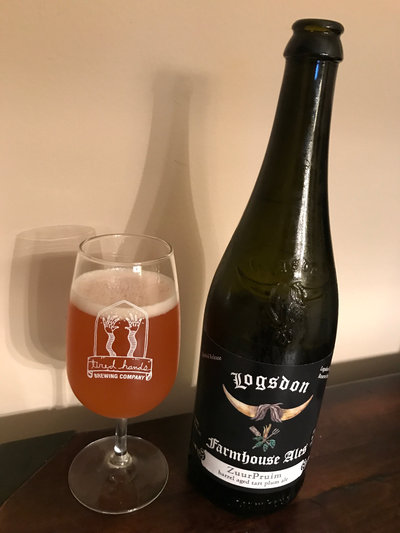 Logsdon ZuurPruim – Pours a cloudy, almost murky orange color with a finger of white head that has good retention and leaves a little lacing. Smells fabulous, tons of fruit, those plums coming through, maybe something more vinous too, some oak, and a little bit of earthy funk livening things up too. Taste hits a lot of those notes from the nose, sweet, vinous fruit, plums, a little bit of earth, tart, bordering on sour in the finish. Mouthfeel is medium bodied, not as well carbed as accustomed to from Logsdon (there's enough, but this isn't as effervescent as usual), and perhaps as a result, this feels a bit heavier than other offerings, low to medium acidity. Perhaps a bit less attenuation here than usual as well, though nothing outside the boundaries of good. Overall, this is a solid little Plum sour, perhaps not as light on its feet or nimble as something like Peche 'n Brett, but still pretty great on its own. A-
Beer Nerd Details: 7.4% ABV bottled (750 ml). Drank out of a flute glass on 4/22/17. Bottle No. 250. Best by: 11/2021.
Seizoen Bretta remains one of my favorites and something I like to keep around in case anyone stops by, but most of what I've had from Logsdon is great, and it sounds like they're moving in the right direction these days, so I'm sure you'll see more from them someday soon…