Portland, Maine's Bissell Brothers opened their doors in December of 2013 and almost immediately garnered attention from the Northeast IPA devoted. These days, the faithful making the pilgrimage to Vermont are tempted to detour even further north to check out the likes of Bissell Brothers, along with contemporaries like Foundation and stalwarts like Allagash. By this statement, I mean that I have certainly been tempted to make such a trek, and I'm sure the inevitable Operation Lobster (to keep in like with Operation Cheddar or Operation Chowder) will be forthcoming sometime in the nearish future.
One of the distinctive things about Northeast IPAs is their usage of adjuncts like wheat, oats, or rye (amongst others) in addition to barley. That being said, these IPAs don't always display the characteristics you might expect from these additions. Case in point: Bissell Brothers' Lux bills itself as a Rye Ale, but in nearly every other respect, it comes off as a pale ale or light IPA. All the standard attributes (appearance, aroma, taste, mouthfeel, etc…) indicate such and there's almost none of that characteristic spicy, sour-like rye flavor, but that's the rub. Not your father's roggenbier: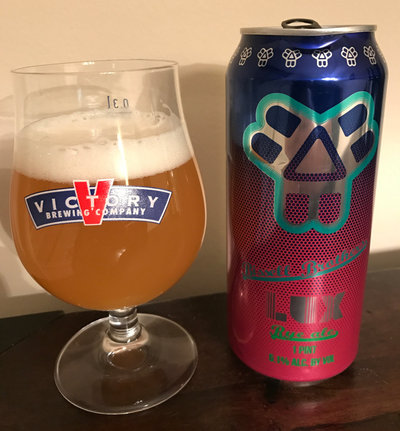 Bissell Brothers LUX Rye Ale – Pours a pale golden orange color with a finger of white, tight bubbled head that leaves a little lacing as I drink. Smells fantastic, huge tropical fruit hops (Mosaic here for sure), NEIPA juicy aromas, but some more floral notes too (dat Centennial). Taste has that citrus and floral character, but rye spice comes through just a tiny a bit here too, making it a little more complex (or maybe I'm just looking for it? Not sure if I'd pick it up blind…), finishing with just a hint of bitter dryness. Mouthfeel is perfect, light bodied, well carbonated, relatively dry, utterly quaffable but it also doesn't feel too light, if you know what I mean. Overall, this is rather fantastic. It feels a lot more like an IPA than a "rye beer" but who cares, it's great. A-
Beer Nerd Details: 5.1% ABV canned (16 ounce pounder). Drank out of a tulip glass on 3/16/17.
That's certainly a nice first impression. Many thanks to fellow BeerNERD Pete for trading the can my way. Will obviously be on the lookout for moar Bissell in the future.