In the dim and distant days of 2012, Victory did a Q&A culled from comments and emails. One asked about sour beers, and the ultimate response was this:
I can tell you that Victory has begun the process of making a sour beer. But we will not release just any sour beer. We are doing small-scale experimentation so that when we do have a sour beer for you, it will be a beautifully balanced, refreshing Flemish-style sour beer. Unfortunately, we are years away from a final product, because once we figure out how to do it, a commercial size batch will be produced and could take more than three years to be ready to blend with younger sour beer.
Cut to four years later, and Victory quietly releases Red, a Flemish-style red beer. Well, they did say it could take more than three years, and indeed, Red is comprised of beer aged in oak barrels for three years and blended with younger beer. It wasn't a big event like the Java Cask releases, but I'm quite happy I grabbed a bottle of this: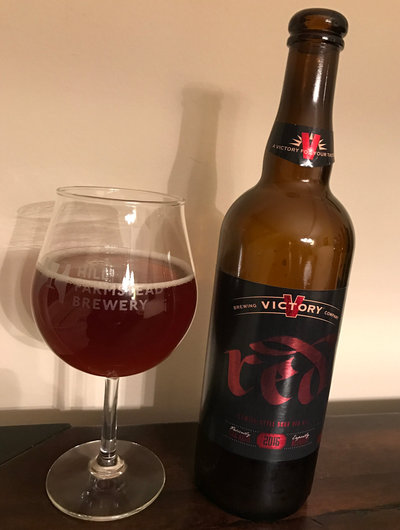 Victory Red – Pours a brilliant, clear golden amber color with a finger of white head. Smells fabulous, tons of oak, vinegar, tart fruit, sour cherries, and the like. Taste follows the nose, is also fabulous, lots and lots of oak, a little tart fruit and vinegar, light on the sourness which is balanced by the oak. Mouthfeel is perfect, medium to full bodied, rich, light acidity. Overall, I tend to like my Flanders style beers oaky, and this one really pulled that off. It's wonderful. A
Beer Nerd Details: 5.5% ABV bottled (750 ml caged and corked). Drank out of a charente glass on 1/21/17. Bottled on 18 Nov 2016. Released on 15 Dec 2016.
Always nice to see Victory continuing to expand their horizons, and I look forward to seeing what they do next with this sort of thing. If you're local, you may still be able to snag a bottle of this (even though it was released in late December), well worth the effort.