Draai Laag is roughly translated from the Dothraki as "turncoat". Or is it translated from Dutch? Probably Dutch, but I'm betting founder and brewer Dennis Hock named his daughter Khaleesi. No? Damn. Still, the "turncoat" moniker stems from both a local historical figure and a more metaphorical reference to Draai Laag's unconventional practices, like not filling growlers or solely focusing on wild ales. As far as I can see, everything these folks make uses some form of wild yeast (and bacterial beasties), some brews even relying on spontaneous fermentation.
The aforementioned brewer Dennis Hock has been brewing since he was a teenage science nerd fascinated with the concept fermentation. Coming from a strict teetotaling family, he even promised not to drink what he was making until he turned 21 (perhaps a dubious claim, but one that makes for a nice story), using only sight, smell, and tasting notes drinking-age neighbors to hone his craft. Once he reached drinking age, he began exploring the world between military deployments, eventually returning home to build a brewery, starting with a whopping $800 brewing system made from salvaged spare parts. They've obviously grown since then, but their brewhouse is still hand-made and fits with their unconventional ethic.
They've been around since 2009, but despite their relative proximity to Kaedrin HQ (they're just north of Pittsburg), this is my first taste of their wares. Geestelijke (Dothraki Dutch for clergy or monk) is a straightforward farmhouse ale made with pilsner malt and Draai Laag's signature Wild Angels yeast strain, cultivated from the Pittsburg air. It supposedly doesn't like fermenting fruit or mixed fermentation, but works wonders all on its own, as we're about to find out: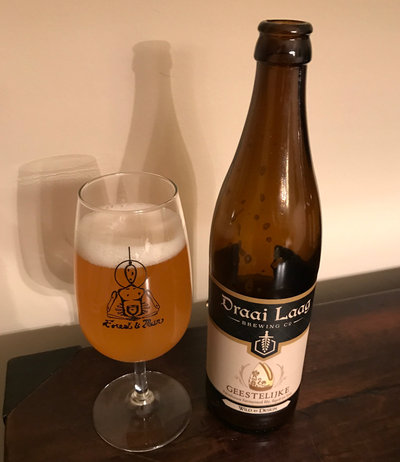 Draai Laag Geestelijke – Pours a hazy golden yellow color with a couple of fingers of fluffy, fizzy, short-lived white head. Smells sweet, tart fruit, pineapple, light funk, yeast spice. Taste also hits sweet, fruity notes with a light funk that I'm having trouble describing (earthy but in a different way than normal, which makes sense given the unique yeast strain here), and some spice. Mouthfeel is medium bodied, highly carbonated but cut a bit by booze. Overall, this is very nice! B+
Beer Nerd Details: 9% ABV bottled (500 ml). Drank out of a flute glass on 1/13/16.
So that's a nice first impression and now that I know more about these folks, I'm definitely curious to try more of their stuff. Stay tuned!