Brasserie Dunham is located southeast of Montreal, near the Vermont border. You know how dorks like me make the pilgrimage to Vermont to get good beer? Well, I have some Vermont friends who've raved about making the pilgrimage to Dunham. This certainly speaks volumes. As such, when I saw their beers showing up on shelves in the US, I pounced.
This beer is first in a series of blends (it's an assemblage or "assembly", eh). This entry is composed of a 50/50 blend of Propolis (a saison made with wheat, honey, and citrus peels) and an American-style pale ale; the blend is then spiked with Brett and aged in Zinfandel barrels. My kinda rustic, lets dive in: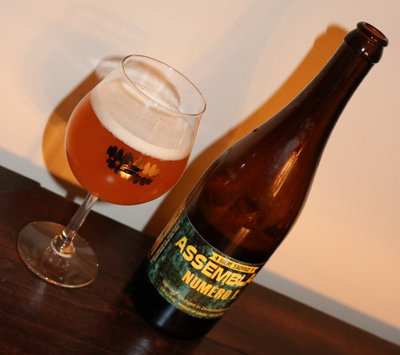 Brasserie Dunham Assemblage Numero 1 – Not a gusher, but it started foaming a bit and would have overflowed if I wasn't careful. Pours a murky golden orange color with a finger or two of white, fluffy head, good retention, a bit of lacing. Smells great, earthy funk, Belgian yeast spice (cloves, coriander), a little vinous fruit. Taste is sweet and spicy, funky earthiness kicking in during the middle, finishing with a bit of a dry, bitter bite. Mouthfeel is highly carbonated and effervescent, medium bodied and dry. Overall, the pale ale adds perhaps a bit too much bitterness, but this is really quite nice nonetheless! B+ or A-
Beer Nerd Details: 5.5% ABV bottled (750 ml). Drank out of a charente glass on 12/10/16.
Definitely a brewery to watch out for, and I'm certain I'll be seeking out more of their stuff soon enough. It's been a while since a Canadian beer has made it to the blog. I'm glad these folks helped me remedy that, and let's hope I can keep it up…