I'm not always great about aligning my drinking up to the occasion, but Halloween is one holiday where I try to make the extra effort. I embark upon a six week horror movie marathon and generally attempt to drink some seasonally appropriate beers (or, at least, rationalize completely irrelevant choices). Halloween night always begets something special. Last year, I watched a duo of Wes Craven movies and paired with beers inspired by his work.
One of those beers was Crooked Stave's Nightmare on Brett, a series of sour baltic porters (all of which clock in at the vaguely antichristian ABV of 9.666%) aged in barrels. There are tons of variants, but the one I had last year was aged in Leopold Bros. whiskey barrels with cherries. This year, we take on their newest variant, which is basically the same thing, but aged with blueberries instead of cherries. Sounds glorious, so let's grab our fedora and knife-glove-thingy and haunt the dreams of some beer: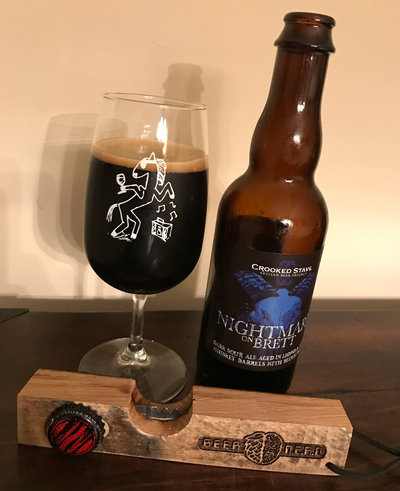 Crooked Stave Nightmare On Brett with Blueberries (Leopold Bros. Whiskey Barrel-Aged) – Pours a very dark brown, almost black color with a finger of tan head. Smells great, hints of roast and chocolate, I don't know if I get blueberries specifically, but it's definitely got a nice chocolate covered berries sort of feel, maybe a note of whiskey and oak too. The blueberries actually do come out in the taste though, their distinct flavor inflecting the sourness, which is pretty substantial (I want to say moreso than the cherry version I had last year, but who knows?) Less in the way of roast or chocolate, as the balance has flown towards the blueberries, but this is still very clearly a sour stout and you kinda get that. Mouthfeel is well carbonated, crisp, medium bodied, with a sharp but pleasant acidity. Moderate richness from the barrels, and a bit of warming booze too. Overall, this is great, but I want to say that the one I had last year was better. I guess I need to do a taste test with both at some point. Woe is me. A-
Beer Nerd Details: 9.666% ABV bottled (375 ml). Drank out of a flute glass on 10/31/16. Batch: January 2016 (pretty sure it was only released in September though).
Crooked Stave does it right, as per usual. Will always be on the lookout for more of their wares. Many thanks to Kaedrin friend Danur for procuring this bottle and smuggling it back to PA for me.