During the leadup to Halloween, I get in the mood by watching tons of horror movies. I usually snag some seasonal beer to pair with my spooky viewing habits, but there are multiple approaches to pairing beer. Pumpkin beers and Märzens are great complements, but you can also gain traction by contrasting gruesome visuals with bright and refreshing beer, which is where this peach dosed saison comes in. He says, as if pairing beer with movies is a real thing.
This is a saison brewed with Saccharomyces Bruxellensis Trois (formerly known as Brettanomyces Bruxellensis Trois, so changed due to some genetic sequencing research – all the gory details are available if you want to really nerd out), which lends "characteristics of mango and pineapple", which seem like a good complement to the peaches and plums added to this beer. Let's dive in: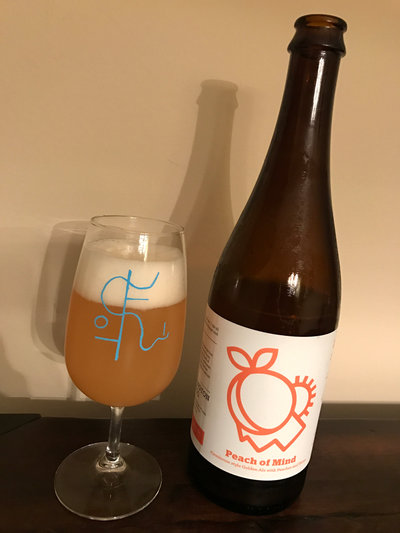 Burlington Peach of Mind – Pours a cloudy orangish yellow with a finger or two of fluffy white head. Smells very nice, saison spice, a hint of musty funk, with a heaping helping of those peaches and other fruity esters. Taste hits the yeasty spice notes lightly up front with some earthy character and fruit (peach is there, but it's not overpowering) emerging quickly and lasting through the finish, which has a nice tart note to it (though not full-on sour, as is proper). Mouthfeel is light to medium bodied, well carbonated, low acidity, bright and refreshing. Overall, a well executed, bright peach saison with hint of funk. A-
Beer Nerd Details: 6.5% ABV bottled (750 ml). Drank out of a flute glass on 10/7/16. Bottled: 8/4/16.
My supplies secured during Operation Cheddar V are rapidly dwindling. Only a couple things left, including one more Burlington sour that I can't believe I haven't drank yet. Look for a review of that in the nearish future. In the meantime, I've got a big cache of IPA reviews piling up that I think you'll be interested in next week.