So if Shaun Hill was such a big fan of the Golden Girls and if this beer is brewed with wheat, wouldn't it be better named Blanche? What's that? It's named after a family member? Well that makes more sense. Thank you for being a friend.
What we have here is a low alcohol version of regular Dorothy, their Citra dry-hopped saison made with wheat and Brett. This one drops the alcohol down to 4.5%, but is supposed to otherwise be the same. The concept of a "table" beer, something appropriate for anytime drinking in a wide variety of circumstances often served with food, is great, but a little rough when it comes to a smallish brewery like Hill Farmstead. That being said, if I had an inexhaustible supply of this stuff, I'd be a happy camper. As it is, I traveled down the road and back again to get some bottles: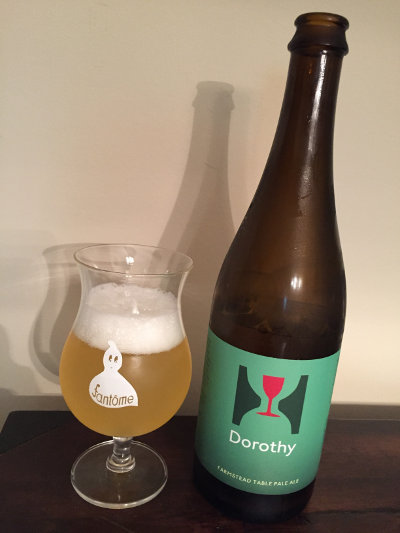 Hill Farmstead Table Dorothy – Pours a hazy straw yellow color with copious, bubbly white head that sticks around for a while and leaves a bit of lacing as I drink. Smells of spicy farmhouse yeast, a little funky earthiness, some fruity esters peeking out and complementing a light citrus hop character. Taste hits a cereal note, earthy minerals, only a hint of funk, a little bitterness in the finish. Mouthfeel is light bodied, highly carbonated, crisp, bone dry, and eminently quaffable. Overall, this is a very well done light saison with hints of hops, but less farmhouse than I'm used to from HF. Really solid and crushable. B+
Beer Nerd Details: 4.5% ABV bottled (750 ml). Drank out of a tulip glass on 9/9/16. Bottled: 2016 07 07
Luckily, I did buy a few bottles of this stuff so I think maybe I can use it as a table beer. Only for a couple of dinners, but hey, better than nothing. No more Hill Farmstead in the immediate pipeline, but an adjacent brew that holds much interest, so buck up, fair readers. More fun incoming soon enough.