The Bruery's Mélange series is their line of experimental blends. They've amassed quite a few barrels of beer and have been siphoning off small portions of those barrel aged wonders for blending purposes for quite a while now. Most appear to be one-offs, but a few are recurring. They've generally had limited availability, but this particular iteration looks to have been spread far and wide. The components used in this beer are 85% of "some of our most vintage barrels of barleywine and old ale" (presumably stuff like their Anniversary beers and Mash) and 15% of "both Tuesday–themed releases and Share This" (i.e. imperial stouts).
I would be genuinely curious about exact proportions of components, as blending is a tricky beast. Of course, I don't have any particular experience with it, but my blatant speculation is that it would be very difficult to blend such strongly flavored beers in such a way that would allow them to become more than the sum of their parts. Indeed, I suspect many attempts at blending lead to one component dominating the others, or perhaps even resulting in a beer that is less than the sum of its parts. Blending in other arenas is often done to smooth out rough flavors, but that also has the added effect of making the result blander and more homogeneous. I don't think that's what the Bruery is going for here, and most of these Mélange beers seem to be well received, so I guess they're doing a pretty good job.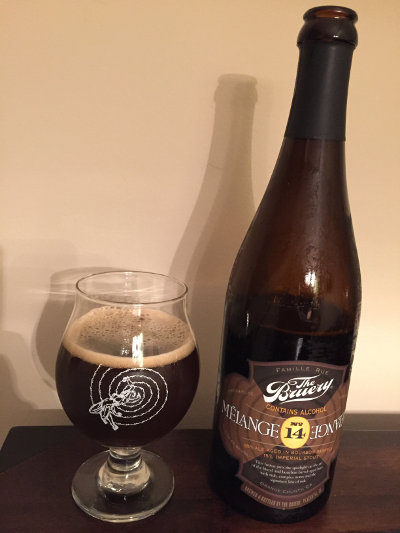 The Bruery Mélange No. 14 – Pours a muddy looking, vivid dark brown color with a half finger of light tan head. Smells of rich caramel, bourbon, oak, vanilla, toffee, a hint of something darker lurking in the background. Taste is very sweet, lots of crystal malt, much more on the fruity side, dark fruits, maybe coconut, plenty of booze. As it warms, the fruit subsides a bit and the bourbon and oak come out more, but it's still distinct from your typical Bruery BBA lineup. Mouthfeel is on the lighter end of full bodied, moderate richness, finely carbonated, some pleasant boozy heat. Very complex, lots going on, a slow sipping beer for sure. Overall, this is really nice, typical Bruery barrel character, complex, maybe a bit off balance and muddled, but still delicious. More delicious than its components? I'm not so sure. I definitely have a thing for the Anniversary beers and I love Mash and Black Tuesday. This is a nice change of pace, I guess. B+
Beer Nerd Details: 13.4% ABV bottled (750 ml). Drank out of a tulip glass on 9/9/16. Bottled: 05/23/16.
Always fun taking a trip through the Bruery's barrel program. I've always wanted to try Melange No. 3 (a blend of Anniversary, White Oak Sap, and Black Tuesday) and would be really curious about Melange No. 1 (a blend of Oude Tart and Black Tuesday) even if it seems a bit odd to blend a sour with a stout. I also realized that I neglected to review this year's anniversary beer, but then, I've reviewed most of them already, so there's little else to say… No more Bruery on the horizon, but we'll certainly see more from them on here sometime.