Moar Vermont Double IPAs! VT DIPAs forever!
This one hails from Frost Beer Works, a bit southeast of Burlington. Not technically VT beer roulette since I'd actually heard of these guys before and Eric recommended I grab a bottle as it had just been released and was thus fresh. Oh, and it's apparently pretty good. It's part of Frost's "Research Series", basically their experimental arm of one-offs (or are they? This seems to have been made before, so perhaps they're still "researching" this, though from what I can see, it's clearly ready for the big time). Supposedly this is a double-dry hopped version of their standard DIPA, called Lush, though their website lists a different Research Series beer that was also that, so who knows?
The description sez it's a double dry-hopped DIPA with a soft mouthfeel and juiciness reminiscent of stuffed animals and STP. Er, what? Like, STP the motor oil? Stone Temple Pilots? Or ohhhh, 2,5-Dimethoxy-4-methylamphetamine – a psychotropic known by the street name STP (meaning Serenity, Tranquility and Peace)? Oh wait, there's more on the label: "Where ya going to tomorrow?" I see, so we're back to Stone Temple Pilots and yes, they have a song called Plush and that's a lyric, duh, I'm the worst. Let's drink this thing: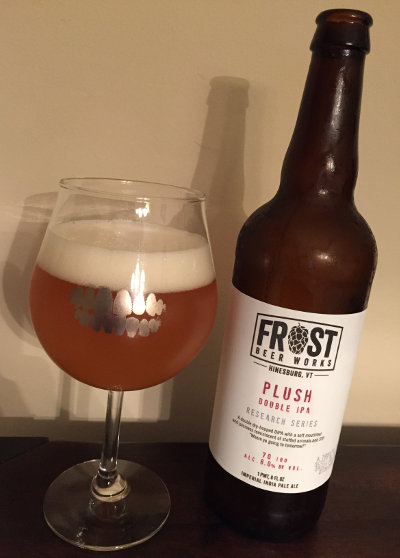 Frost Beer Works Plush – Pours a hazy dark gold color with a finger or two of fluffy white head that leaves plenty of lacing as I drink. Smells quite nice, sweet, candied citrus, mangoes. Taste also hits those sweet notes up front, lots of citrus of the mango kind, not much bitterness here but enough to feel balanced. Mouthfeel is finely carbonated, medium bodied, surprisingly quaffable for an 8% DIPA – I downed quite a bit of this without noticing how much. Overall, whoa, another VT DIPA that's really good, shocker. B+ or A-, I don't know anymore, my palate is drowning in hops. In, uh, a good way I guess.
Beer Nerd Details: 8% ABV bottled (22 ounce bomber). Drank out of a charente glass on 8/12/16. Bottled: 07/28/16. Label sez: A tribute to Scott W (RIP)
Damnit, another VT brewery I need to explore more from? You know it. Alas, nothing else from this trip, so you'll have to wait for Operation Cheddar VI: Night of the Living Cheddar (tentative name). In the meantime, one more VT DIPA review on its way until things return to normal…