I've already wonked out on the history of Alchemist, but basically they started out as an obscure brewpub that was destroyed by the dread Tropical Storm Irene. Fortunately, they had just built a production brewery and canning line, so they survived by making tons of Heady Topper and pretty much only Heady Topper for a few years. The brewpub was never reopened, but a couple years ago, they started reviving old recipes and doing limited releases. Flash forward a couple years, and they've opened a new (gorgeous) production brewery that basically doubled their capacity and allowed them to start making those other recipes on a more regular basis. The focus of the new brewery seems to be Focal Banger, their 7% IPA, but they also have some capacity dedicated to a "rotating" beer, which for now is The Crusher.
The Crusher is an odd duck, something I have a little trouble wrapping my head around. I mean, yeah, sure, it's delicious, but it occupies a weird territory somewhere in the middle of the DIPA, TIPA, and Barleywine triangle, like this diagram I spent a whole 5 minutes creating: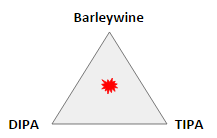 Rich, hoppy, and boozy, it's a tasty little monster. I don't think I like it any better than Focal or Heady, which oddly makes this the "worst" beer I've ever had from The Alchemist, but that's a silly way to look at it since it's still glorious. Let's look closer: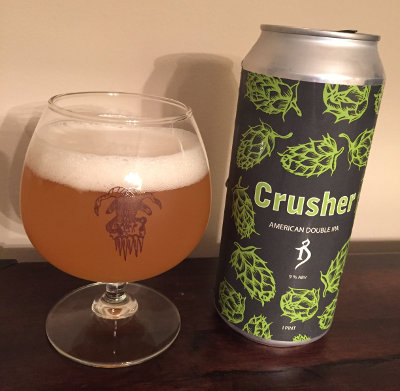 The Alchemist The Crusher – Pours a dark golden yellow color with a finger of fluffy white head, good retention, and lacing. Smells good, citrus and resinous pine hops, crystal malt, maybe some honey-like aromas, not as aromatic as Focal or Heady but still great. Taste starts off with rich, sweet crystal malt, notes of caramel and honey, with those citrus and resinous pine hops kicking in towards the middle, maybe a little booze too, finishing on a nice, bracing bitter note. Mouthfeel is medium to full bodied, rich, and well carbonated, finishing dryer than most TIPAs. I wouldn't call it balanced, but that feels like the point. Add some more malt here and you've got a very nice Barleywine. Overall, this is really good. Not quite the paradigm establisher that Heady or Focal represent, but a worthy entry in The Alchemist's portfolio. A-
Beer Nerd Details: 9% ABV canned (16 ounce pounder). Drank out of a snifter on 8/12/16.
Now I really want to try more of Alchemist's back catalog. Luscious, Beelzebub, Ouroboros, Petit Mutant, the list goes on. Hopefully the "rotating" slot at the new brewery will rotate, even if The Crusher seems quite popular…